The Sylvia and David Steiner Speaker Series
The Sylvia and David Steiner Speaker Series is dedicated to bringing creative practitioners who push boundaries, defy definition, and demonstrate excellence in all aspects of the arts, to the Carnegie Mellon campus for deep engagement with our students and faculty. The Steiner Speaker Series is administered by the Frank-Ratchye STUDIO for Creative Inquiry, the research laboratory of the CMU College of Fine Arts, with the assistance of an advisory committee comprised of faculty from around the university. Members of the CMU community may apply for Steiner Visitor Invitation Grants for support to bring creative guests to their classrooms, departments, and clubs.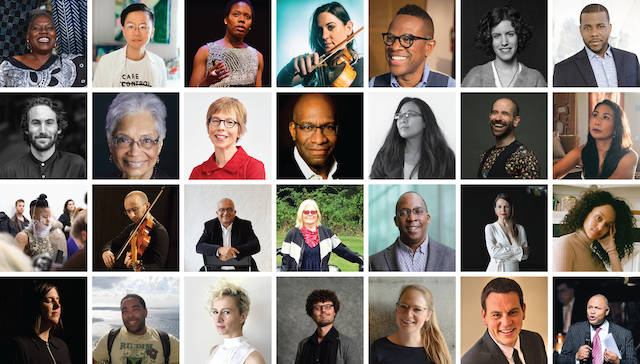 Year Three (Fall 2020)
During the Fall 2020 semester, 29 visitors with expertise across the arts and creative disciplines were nominated and co-hosted by CMU faculty, staff and students. More information about the Fall 2020 visits supported by the Steiner Visitors Invitation Grants can be found here.


Year Two (Spring 2019 – Spring 2020)
During the second year that the STUDIO managed the Sylvia and David Steiner Speaker Series series (November 2018 through May 2020), we presented 22 public lectures and 34 additional student engagement events (including 14 classroom visits, 7 workshops, 3 public exhibitions, and 10 critiques or charrettes), with a total attendance exceeding 2000 persons. These events were presented in collaboration with a variety of institutional partners, including the CMU Schools of Art, Architecture, Design, and Music; the Miller ICA, the Entertainment Technology Center, the IDeATe Network, the Center for Arts and Society, and the Masters of Arts Management Program; and with off-campus partners, the University of Pittsburgh, and The Andy Warhol Museum. These events are documented in the Sylvia and David Steiner Lecture Series Book: Year Two (165MB .PDF), featuring:
Year One (Fall 2017 – Fall 2018)

During the first year that the STUDIO managed the Sylvia and David Steiner Speaker Series series (November 2017 through November 2018), we presented 16 public lectures, 18 classroom lectures and workshops, and 26 other student engagement events, with a total attendance of 1,782 persons. These events were presented in partnership with a number of institutional collaborators, including the College of Fine Arts Schools of Art, Architecture, Design, and Music, the Miller Institute of Contemporary Art, The BXA Interdisciplinary program, the Dietrich College Department of English, dSHARP, the Entertainment Technology Center, the IDeATe Network, the Carnegie Mellon University International Film Festival, and with off-campus partners, the Andy Warhol Museum. These events are documented in the Sylvia and David Steiner Lecture Series Book: Year One (20MB .PDF), featuring: