The Milk Truck
Jill Miller (2011)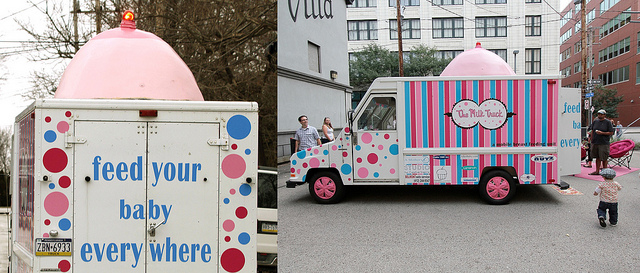 The Milk Truck, by STUDIO fellow Jill Miller is part of the 2011 Pittsburgh Biennial at the Andy Warhol Museum. It is a combination of guerilla theater, activism and a little slapstick humor aiming to create a mobile breastfeeding unit that allows mothers to feed their babies in places where they have been discouraged – restaurants, shopping malls, public spaces, etc. Babies should be able to eat anywhere. And everywhere.
The Milk Truck's primary mission is to help hungry babies eat by providing a supportive environment for women to nurse their babies. However, the truck will also make regular rounds on its "Pump Route" to offer a private, clean space for women to pump breast milk at work. In addition, and due to popular demand, The Milk Truck will visit businesses and events that are breastfeeding-friendly, to celebrate their awesomeness. (We want to hang out with like-minded people!)
The Milk Truck (2011) from STUDIO for Creative Inquiry on Vimeo.
---
People
Partners and Supporters