Multi-resolution in architectural design and robotic fabrication
Manuel Rodríguez Ladrón de Guevara (2017)
Multi-Resolution by Ladron de Guevara :: Supported by FRFAF (#2018-23) from STUDIO for Creative Inquiry on Vimeo.
Manuel Rodríguez Ladrón de Guevara, while a Masters student of Computational Design at Carnegie Mellon University's School of Architecture, explored how computational methods can reduce the operation time towards affordable bespoke architectures through the implementation of a multi-resolution methodology of design.
These tools generate a digital unit that is understood as an informed discrete spatial voxel that engenders a geometry. His research has two main parts: the design of the algorithm to generate geometry, and its robotic fabrication by fused deposition at large scale.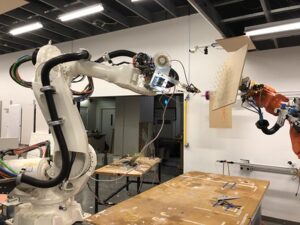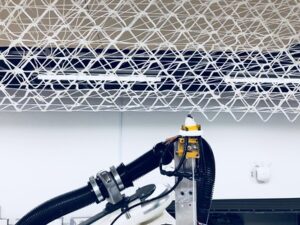 The robot avoids any constrain 3D printers have, detaching from the layer-by-layer printing method towards a 3D spatial printing (adding air jets to the nozzle that solidify the material quicker so it doesn't need to be supported).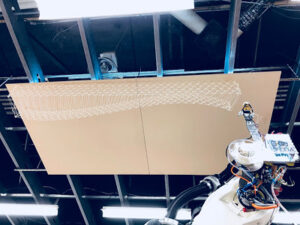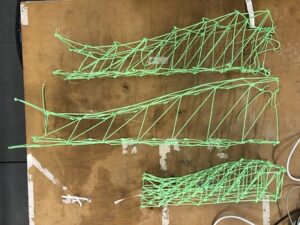 This research is a collaboration that aims to achieve affordable architectures responding to divergent contexts through the concept of 'Multi-resolution', a design methodology that scrutinizes direct information from the user to perform a completely tailored architecture.
A holistic process flow is designed for additive manufacturing of multi-resolution surfaces suitable for use as architectural components. This holistic process is compounded by input parameters, computational morphogenesis design, topology optimisation, FEM analysis, feedback loops and robotic fabrication.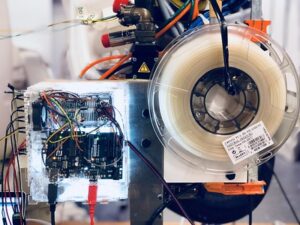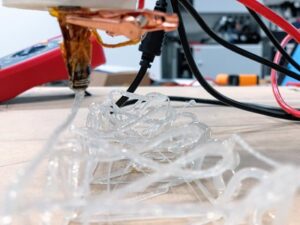 The procedure intends to democratize the fabrication industry, implementing bespoke design and manufacturing in emanating markets that may bring new opportunities of appraising constructive requirements of an ever more digital society. Read the full guidebook produced by Guevara here [2.2 mb].
This project was supported by the Frank-Ratchye Fund for Art @ the Frontier Grant #2018-023 and the Frank-Ratchye STUDIO for Creative Inquiry. Additional images can be found here.