Lucky After Dark
Dr. Harrison Apple (2014)
School of Art undergraduate Harrison Apple undertook a large-scale archival and curatorial research project, Lucky After Dark: Pittsburgh's Gay and Lesbian Social Clubs 1960-1990. The project, taking the form of a book and exhibition, illustrates the historical roots of gay and lesbian social clubs in 20th century Pittsburgh.
After Repeal in 1933, private social clubs inherited the mixed legacy of Prohibition. These clubs became an after-hours demimonde, populated by a mixture of twilight characters ranging from numbers kings to vice cops while providing privacy, protection, and entertainment for its clientele.  Pittsburgh's 'gay places' helped create a new nocturnal landscape where proprietors, staff, and members helped forge a community that set the stage for future engagement in public life.

The exhibit draws closely from the oral interviews conducted with 'Lucky,' a club steward and bartender who became a key informant for the project, along with many other participants. Lucky's career paralleled the history of gay Pittsburgh and his extensive collection of photographs, videos, publications, and ephemera from the T.C. Club, the House of Tilden, and Travelers vividly illustrate the gay world after dark.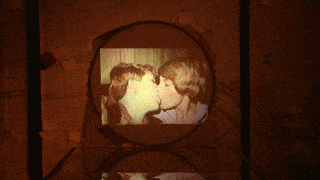 Catalog [Catalog PDF] to the June 2014 Exhibition "Lucky After Dark: Pittsburgh's Gay and Lesbian Social Clubs 1960-1990" produced by the Pittsburgh Queer History Project. Drawing from the Robert "Lucky" Johns slide collection, Lucky After Dark describes the formation of a gay and lesbian community of labor and love, in which chartered fraternal organizations, become queer employers hidden in plain sight, during a period of state sanctioned oppression of LGBT people.
This tabloid [Gallery Guide PDF] serves as the gallery guide for the Pittsburgh Queer History Project's exhibition "Lucky After Dark: Pittsburgh's Gay and Lesbian Social Clubs 1960-1990." Modeled after Pittsburgh's "OUT" magazine (c. 1970-2012), this newsprint bar rag is filled with writing about the Project, local timelines, interviews with participants, and photographs from the archives. 
Funding for the Lucky After Dark exhibition was provided in part by the A.W. Mellon Educational and Charitable Trust Fund; the Scott Noxon Fund of The Pittsburgh Foundation; Grant #2014-10 from the CMU Frank-Ratchye Fund for Art @ the Frontier, the CMU Center for Arts and Society (CAS), and the Humanities Scholars Program at Carnegie Mellon University.
---
People