Drawing and Painting with the HP7474a Graphics Plotter (2022 Maddy Varner Award Winner)
Benford Krummenacher (2022)
Benford drawing a still-life with the HP7475a from STUDIO for Creative Inquiry on Vimeo.
Benford Krummenacher (BSA – Biology and Art) is an interdisciplinary art student whose interests in computational biology research/poetry/visual communication produced a series of compelling and painstaking drawings using millions of precise points directed by an 1980s graphic plotter. Epitomizing the Maddy Varner Mastication Grant for Time (and/or) Teeth-Based Works — or projects that "take a while to chew on" — these drawings bend our expectations for limitations of drawing with machines.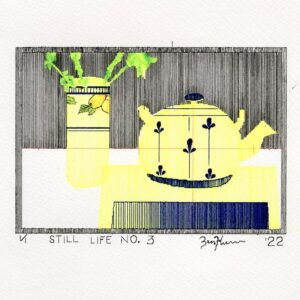 Though the plotter is limited to four directional movement, Krummenacher's drawings maintain painterly effects by replotting areas with multiple gel-ink colors. These slow drawings offer an obsessive contrast between rectilinear linework, careful gradients of ink, and unexpected texture. Additional images can be found here.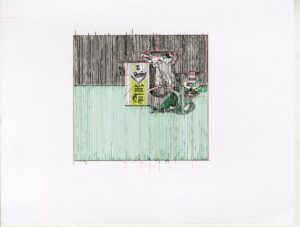 More information about the Maddy Varner Mastication Grant can be found here.