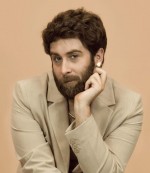 Scott Andrew
Artist-in-Residence, Faculty Fellow
Former Fellows
Scott
Andrew
 is a multimedia artist working in queer oriented video, installation, and performance. 
Scott
 holds an MFA from Carnegie Mellon University where he is an Adjunct Assistant Professor in the School of Art.  
Scott
 Also teaches in the Studio Arts program at the University of Pittsburgh, and in the CMU Precollege program.  His curatorial history includes several STUDIO for Creative Inquiry supported projects, such as TQ Live! At the Andy Warhol Museum, Fail Safe, a local variety series organized with Angela Washko and Jesse Stiles and presented at The Glitterbox Theater, and The Drift, a platform for artistic production and research that explores bodies of water as a context, site, and material.  
Scott
 is also a co-founder of The Institute for New Feeling and has exhibited at MoMA's PopRally (NYC), Ballroom Marfa (Marfa, TX), the Hammer Museum (LA), and the J. Paul Getty Museum (LA), among many others.