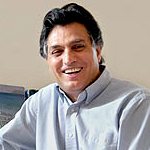 Reza Vali is an Associate Professor of Music at Carnegie Mellon University's School of Music.  He is most known for his works that combine ethnic folk music and Western classical music. He was born in Ghazvin, Iran in 1952 and began his studies in Music at the Conservatory of Music in Tehran. In 1972 he went to Austria to study Composition and Music Education at the Academy of music in Vienna. He earned his Ph.D. in Music Theory and Composition from the University of Pittsburgh in 1985.
Vali's Compositions include pieces for large orchestra, string quartet, piano and voice, and chamber ensemble. His awards include the honor prize of the Austrian Ministry of Arts and Sciences, two Andrew W. Mellon Fellowships, grants from the Pennsylvania Council on the Arts, and commissions from the Kronos Quartet, The Boston Modern Orchestra Project, The Seattle Chamber Players, The Arizona Friends of Chamber Music, The Pittsburgh New Music Ensemble and the Northeastern Pennsylvania Philharmonic. In December 1991 he was selected by the Pittsburgh Cultural Trust as Outstanding Emerging Artist for which he received the Creative Achievement Award.
Vali's Compositions have been performed in the United States, Europe, South America, Hong Kong and Australia and are recorded on the Naxos, New Albion, MMC, Ambassador and ABC Classics labels.