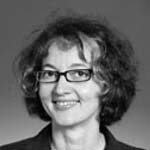 Patricia Maurides
Former Fellows
Patricia Maurides is a visual artist, curator and adjunct professor at Carnegie Mellon University. The studio-lab courses she teaches – Art and Biology, NeuroPhoto and Art+theBrain – bridge the fine arts and natural & social sciences.
In 2014 Maurides curated the exhibition, Neurons and Other Memories – Work In and Around the Brain at the Miller Gallery at Carnegie Mellon University.  This exhibition was created in collaboration with the Center for the Neural Basis of Cognition (CNBC). In 2015 the CNBC honored her with their Friend of the Year Award recognizing her many contributions to the Pittsburgh neuroscience community through both scientific and artistic literacy.
Maurides also works collaboratively on projects that integrate art and science for educational and public venues, including planetarium shows and a youth television series for which she received a 2015 Mid-Atlantic Regional Emmy Award.
For her own photo-based artworks, Maurides explores origins, both cultural and genealogical.  She is frequently a performer in her image tableaus, using projections, scientific imaging and the natural environment.
Maurides is the recipient of grants from the Greater Pittsburgh Arts Council, American Association for the Advancement of Science, Mid-Atlantic Arts Foundation, Pennsylvania Council on the Arts, Louisiana Division of the Arts and most recently a 2014 Carnegie Mellon Proseed/Crosswalk Grant for her NeuroArt Initiative.
Patricia Maurides earned a BS in Biological Sciences from the University of South Carolina and an MFA in Art from Carnegie Mellon. From 1999-2006, she served as the first academic director of Carnegie Mellon's Bachelor of Humanities and Arts (BHA) and Bachelor of Science and Arts (BSA) interdisciplinary degree programs.