Vision Machines
October 7, 2022 7:00 PM–October 7, 2022 8:30 PM
4919 Frew Street
Carnegie Mellon University
College of Fine Arts, Room 111
Rebecca Shapass and Inbar Hagai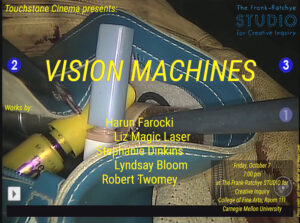 Brought to you by Rebecca Shapass (MFA '23) and Inbar Hagai's (MFA '24) curatorial project Touchstone Cinema, with support from the Sylvia & David Steiner Speaker Series, "Vision Machines" is a lineup of moving-image works focused on artists working with/against robots that see. This program reflects upon CMU's complicated legacy as a major contributor to the field of computer vision.
Works in the program include:
Kuka (2016) by Lyndsay Bloom
Conversations with Bina48 (2014- ongoing) by Stephanie Dinkins
Eye/Machine II (2002) by Harun Farocki
Mine (2009) by Liz Magic Laser
Rover (2017) by Robert Twomey
Thank you to Eunsu Kang,  Angela Washko, Golan Levin, Rich Pell, Johannes DeYoung, Paolo Pedercini, Geneva Skeen, and Garth Zeglin for their programming support.