TOUCH Workshop with Anna Betbeze
October 27, 2022–October 29, 2022
4919 Frew Street
Frank-Ratchye STUDIO for Creative Inquiry (CFA 111)
College of Fine Arts
Carnegie Mellon University
Anna Betbeze
Anna Betbeze // TOUCH Workshop, 10/28/2022 from STUDIO for Creative Inquiry on Vimeo.
TOUCH Workshop w/ Anna Betbeze is a multimodal set of experiments that untangle the ideological orientation of the senses, organized around proprioceptive sensation and arriving at inverted performances. The project builds on the tactile research of Czech polymath Jan Švankmajer, his response to the censorship of his work in the 1970s. With Covid-19 a pervasive reality, touch is limited and vision dominates. How can the tactile imagination respond in the absence of tactile freedom? How do we transfer and transmit feeling, touching those outside of our time-space?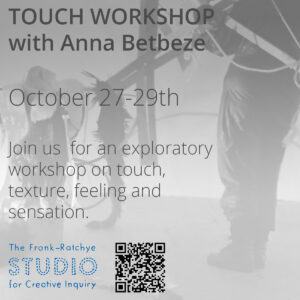 Anna Betbeze's work involves the exploration of haptic sensation, combining elements of sculpture, painting, movement, ritual, puppetry, and pedagogy. She considers the ephemerality of lived experience alongside the supposed deathlessness of artistic creation. She lives and works in Los Angeles and is on the faculty at the University of California, Riverside.
This workshop was supported in part by the STUDIO for Creative Inquiry Steiner Visitor Invitation Grant.
Workshop Schedule
Thursday October 27th, 2022
5:30pm – 7pm: Evening Public Artist Lecture and introduction for participants to the weekend activities, necessary materials to bring, a short reading and video screening.
Friday October 28, 2022
1 pm – 6 pm: Workshop begins. Participants are asked to bring materials that are not immediately recognizable through touch. Anna facilitates activities to explore these objects.
Saturday October 29, 2022
10 am – 4 pm: Workshop resumes. Anna facilitates activities about "feelings," as in how we feel things within our bodies and then extend those feelings into gestures. The workshop focuses on designing and creating bodily extensions of materials, and used to explore the relationship between embodiment and movement with found materials.
5 pm – 6 pm: Public discussion and demonstrations.