Tara Mateik STUDIO Visit / MS89
December 5, 2022 12:00 AM–December 6, 2022 12:00 AM
4919 Frew Street
College of Fine Arts - Room 111
Tara Mateik
Tara Mateik // Workshop, 12/5/2022 from STUDIO for Creative Inquiry on Vimeo.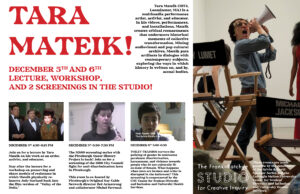 Sponsored by the Sylvia & David Steiner Speaker Series, Join us in the STUDIO for 2 days of programming with Visiting Artist Tara Mateik alongside the PQHP's MS89 Series!
DECEMBER 5th 4:30-6:15 PM
Join us for a lecture by Tara Mateik on his work as an artist, activist, and educator, 
Stay after the lecture for a workshop on preserving and share models of resistance in which Mateik physically re-inserts Judy Garland back into the film version of "Valley of the Dolls."
DECEMBER 5th 6:30-7:30 PM
The MS89 screening series with the Pittsburgh Queer History Project is back! Join us for a screening of the 1988 City Council fight for anti-discrimination laws in Pittsburgh.
This event is co-hosted by Pittsburgh's Original Gay Cable Network director Zed Armstrong and collaborator Michel Ferrucci.
DECEMBER 6th 5:00-6:50
TOILET TRAINING surveys the policing of gender in restrooms–persistent discrimination, harassment, and violence towards people who do not culturally fit as male or female. What happens when laws are broken and order is disrupted in the bathroom? This screening is cosponsored by the CMU Center for Student Diversity and Inclusion and University Health Services.