MS '89: Screening Series with the Pittsburgh Queer History Project
September 9, 2022 6:30 PM–8:30 PM
Frank-Ratchye STUDIO for Creative Inquiry
College of Fine Arts, Rm 111
Carnegie Mellon University
4919 Frew St
Pittsburgh, PA 15213
Harrison Apple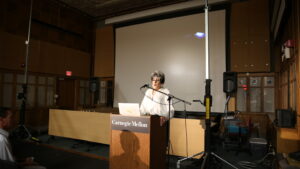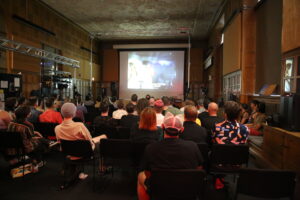 Join us in the STUDIO on Friday September 9th at 6:30 PM for the first in a series of nightclub community archives screenings supported by the STUDIO and the Pittsburgh Queer History Project. Motivated by a critical approaches to community archives prioritizing in-person and intimate environments for passing on knowledge, the STUDIO is hosting public and free screenings beginning with the Miss Pittsburgh 1989 Pageant.
This event includes a special guest appearance by a 1989 pageant contestant and contemporary performer, LaDonna LaMoore who will speak about her experience as part of the history of the Miss Pittsburgh Pageant (operating from 1977 into the early 2000s) and life as part of Pittsburgh's after-dark LGBTQ service industry.
There is free parking on Frew Street after 6pm.
The STUDIO strongly recommends guests to wear masks for indoors events.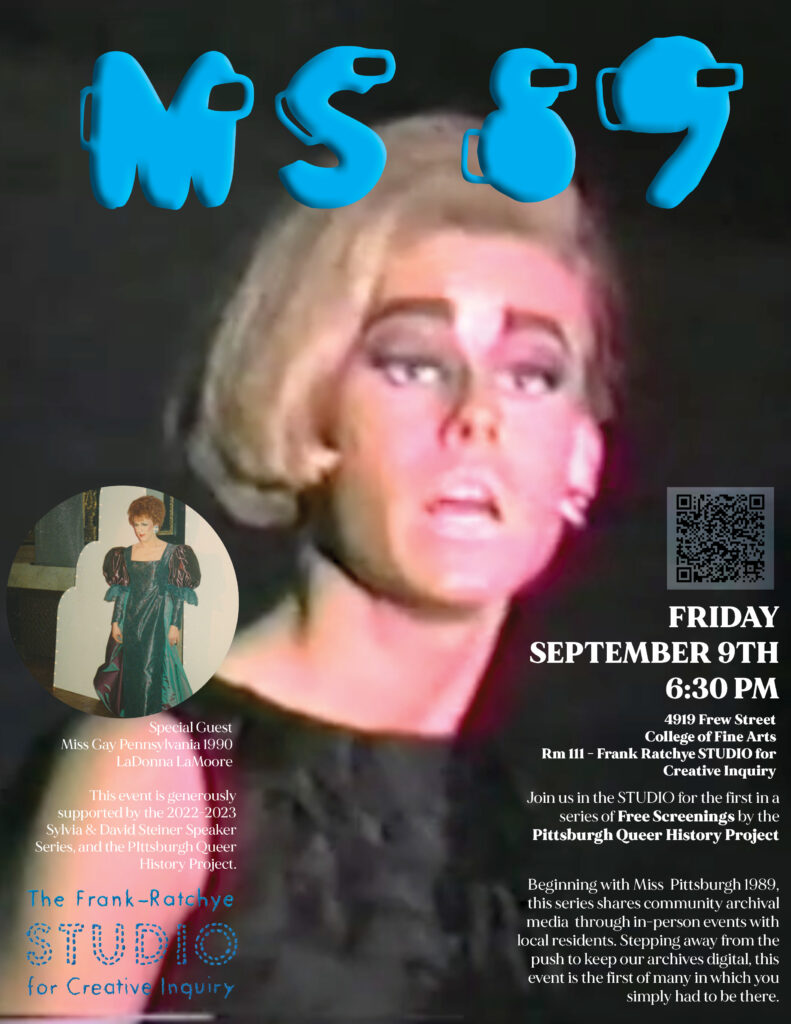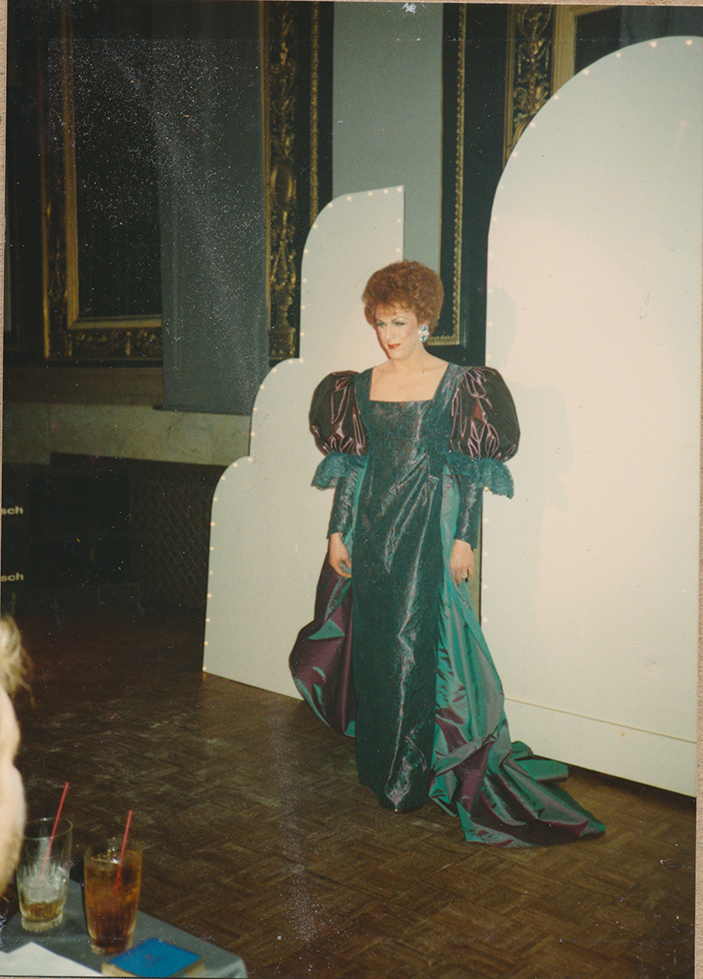 (from the LaDonna LaMoore collection in the PQHP online archives)
LaDonna LaMoore, (born May 14th, 1963 and raised in Cooksburg, PA) is a Hottelville-based drag performer. LaDonna began performing in drag after moving to Pittsburgh 1983 with friends from her hometown. After a close friend pushed her into entering the 1986 Miss Pegasus Pageant at Pegasus Lounge, she met her future drag mother, Miss Cassie (aka Bruce Kovac, Miss Pittsburgh 1983) and became connected with a wide network of performers.
LaDonna continued to perform in pageants, benefits, and shows around the city, as well as in nearby Ohio, while still working as a bartender and waiter at various gay nightclubs through the 1980s, including the Norreh (1227 Herron Ave), the Crossover (1241 Western Avenue), Zack's 4th Avenue (333 Fourth Avenue), the Arena Health Club (2025 Forbes Avenue) and the House of Tilden (941 Liberty Avenue), as well as East End Floral (236 Shady Avenue), and at Kaufman's north side warehouse.
LaDonna currently holds the titles of Miss Norreh 1987, Miss Pennsylvania USA 1990, Miss Congeniality of Miss Pennsylvania USA 1991, Miss Continental Pennsylvania 1989, Miss Pennsylvania Entertainer of the Year 1991 as well as the 1993 "Dedication to Female Impersonation Award presented by M.B.D. Productions.
LaDonna's personal collection was donated to the PQHP archives on July 26 2018 following an oral history interview with Harrison Apple in October of 2017. Though she had kept a large collection of costumes, videotapes, and photographs from her career, a house fire destroyed a significant amount of her belongings.