Mindy Seu and the Cyber Feminism Index!
September 25, 2023 5:00 PM–6:00 PM
Kresge Auditorium
College of Fine Arts
Carnegie Mellon University
Angela Washko
FIRST STEINER EVENT OF THE SEASON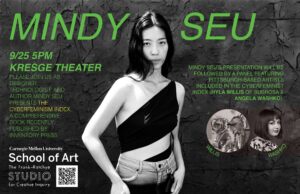 Please join us as designer, technologist, and author Mindy Seu presents the Cyberfeminism Index, a comprehensive book recently published by Inventory Press, in the Kresge Theater on September 25th.
Edited by Seu, the book collects over 700 entries of radical techno-critical activism in a variety of media, including excerpts from academic articles and scholarly texts; descriptions of hackerspaces, digital rights activist groups, and bio-hacktivism; and depictions of feminist net art and new media art. Mindy Seu will present a participatory performative lecture about the book and her practice as a designer, technologist, and cyberfeminist activist. Mindy Seu's presentation will be followed by a panel featuring Pittsburgh-based artists included in the Cyberfeminist Index (Hyla Willis of subRosa & Angela Washko).
Mindy Seu bio:
Mindy Seu (She/They) is a designer and technologist based in New York City. Her expanded practice involves archival projects, techno-critical writing, performative lectures, design commissions, sharing—typically in the form of lists and spreadsheets—and close collaborations. Her latest writing surveys historical precursors of the metaverse and reveals the materiality of the internet. Mindy's ongoing Cyberfeminism Index, which gathers three decades of online activism and net art, was commissioned by Rhizome and presented at the New Museum in its online form, and its print form is a recipient of a Graham Foundation Grant. She has lectured internationally at cultural institutions (Barbican Centre, New Museum), academic institutions (Columbia University, Central Saint Martins), and mainstream platforms (Pornhub, SSENSE, Google), among many others, and has been a resident at MacDowell, Sitterwerk Foundation, Pioneer Works, and Internet Archive. Mindy holds an M.Des. from Harvard's Graduate School of Design and a B.A. in Design Media Arts from the University of California, Los Angeles. She is currently Assistant Professor at Rutgers Mason Gross School of the Arts and Critic at Yale School of Art.
Hyla Willis bio:
Hyla Willis is an interdisciplinary artist, graphic designer, and co-founder of the cyberfeminist art collective subRosa, which has focused on the ways women are impacted by rapidly-evolving biological and communications technologies. Willis has performed, exhibited, and given workshops in Europe, Asia, Australia, and throughout North America. She holds a MFA from Carnegie Mellon University, and has been the recipient of two Pennsylvania Council on the Arts Fellowships in New Genres, a Creative Capital grant in Emerging Fields, a MacDowell Colony Fellowship in Interdisciplinary Arts, and an Artist Opportunity Grant from the Greater Pittsburgh Arts Council. She was selected as Pittsburgh Center for the Arts' Artist of the Year in 2014 and mounted a solo exhibition—America's Least Livable City—in homage to her hometown in the Sacramento Valley. She is a Professor of Media Arts at Robert Morris University in Moon Township, Pennsylvania.
Angela Washko bio:
Angela Washko is an artist, filmmaker, and experimental game developer who creates new forums for discussions about feminism in spaces frequently hostile towards it. Her practice spans interventions in virtual environments, performance art, media installation, documentary film, and video games. In 2012, she founded The Council on Gender Sensitivity and Behavioral Awareness in World of Warcraft, an intervention inside the popular online video game. A recipient of the United States Artists Fellowship, Creative Capital Award, Franklin Furnace Performance Fund, Impact Award at Indiecade, and Jury Awards for Best Documentary at the American Film Festival, San Francisco Documentary Film Festival, and Buffalo International Film Festival, Washko's practice has been highlighted in The New Yorker, Frieze Magazine, Time Magazine, The Guardian, ArtForum, The Los Angeles Times, Art in America, The New York Times and more. Her projects have been presented internationally at venues including Museum of the Moving Image (NYC), Los Angeles Museum of Contemporary Art, the Milan Design Triennale, and the Shenzhen Animation Biennial. Angela Washko is an Associate Professor of Art at Carnegie Mellon University.
This event, organized by School of Art Prof. Angela Washko, has been made possible through the 2023-2024 Sylvia & David Speaker Series and the generous co-sponsorship of the CMU School of Art!