Legacy Russell
October 23, 2020 12:00 PM–1:30 PM
Steiner Invitation Series
Presented in partnership with the Carnegie Mellon University School of Art
Faculty Host: Isla Hansen
Legacy Russell // Steiner Lecture in Creative Inquiry, 10/23/2020 from STUDIO for Creative Inquiry on Vimeo.
Click here to RSVP for a presentation by Legacy Russell on Friday, October 23rd, 2020 @ 12pm
Legacy Russell is a curator, writer, and artist.
Born and raised in New York City, she is the Associate Curator of Exhibitions at The Studio Museum in Harlem.
Russell holds a dual-major B.A. with Honors from Macalester College in Art History & Studio Art and English & Creative Writing with a focus in Gender Studies, and an MRes with Distinction in Art History from Goldsmiths, University of London with a focus in Visual Culture. Her academic, curatorial, and creative work focuses on gender, performance, digital selfdom, internet idolatry, and new media ritual.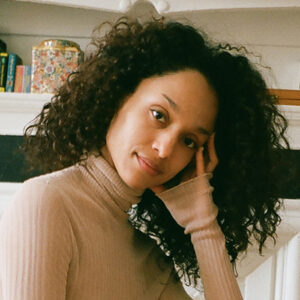 Curated exhibitions and projects include Projects 110 : Michael Armitage, organized with Thelma Golden and The Studio Museum in Harlem at MoMA (2019); Dozie Kanu : Function (2019), Chloë Bass : Wayfinding (2019), and Radical Reading Room (2019) at The Studio Museum in Harlem; MOOD : Studio Museum Artists in Residence 2018-19 at MoMA PS1; GLITCH @ NIGHT; and a series of multimedia events exploring digital feminism and celebrating queer nightlife at ICA London (2017); and the critically acclaimed Wandering/WILDING: Blackness on the Internet in collaboration with IMT Gallery and ICA London (2016).
Amongst other institutional projects, Russell is currently working on organizing with Thelma Golden and The Studio Museum in Harlem Projects: Garrett Bradley, a presentation of the artist and filmmaker's multichannel video installation, "America" (2019) forthcoming at MoMA in 2020. She is also working on the This Longing Vessel : Studio Museum Artists in Residence 2019-20 which will feature the work of E. Jane, Elliot Reed, and Naudline Pierre, to be presented at MoMA PS1 Winter 2020.
Russell's written work, interviews, and essays have been published internationally. She is the recipient of the Thoma Foundation 2019 Arts Writing Award in Digital Art and a 2020 Rauschenberg Residency Fellow. Her first book Glitch Feminism: A Manifesto (2020) is published by Verso Books.
Banner image credit: Legacy Russell, screen still from "GLITCHFEMINISM", Video Essay, 2018
Portrait image credit: Mina Alyeshmerni