Katie Mitchell: Screening of Fraulein Julie + Q&A
November 6, 2022 12:00 PM–November 6, 2022 2:30 PM
Frank-Ratchye STUDIO for Creative Inquiry
College of Fine Arts - RM 111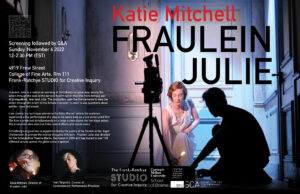 The option to attend via zoom is primarily to serve our international audience members and guest speakers. We encourage all local attendees to do so in-person (to the best of their ability) for the highest quality audio/visual experience. Transmission over zoom necessitates a level of audio/video compression which falls short of our in-house projection and sound system.
Please join us on Sunday November 6th at 12pm (EST) for a special screening of "Fraulein Julie" followed by a hybrid lecture with Katie Mitchell. This screening and lecture was curated by Special Visiting Professor of Directing Ivan Talijančić (John Wells Directing Program – CMU Drama) as part of his Contemporary Performance Practices series, with support from the 2022-2023 Sylvia & David Steiner Speaker Series, The Frank-Ratchye STUDIO for Creative Inquiry, and Simon Fraser University.
Fraulein Julie  is a radical re-working of Strindberg's original play, seeing the action through the eyes of the servant Kristin rather than the more famous pair of protagonists, Jean and Julie. The production uses five live cameras to view the action through the prism of this female character in order to ask questions about gender, class and power.  
Live cinema is a technique pioneered by Katie Mitchell where the audience experience a live performance of a play at the same time as a live constructed film.  The film is projected simultaneously on a large screen above the live stage action. The production also uses live Foley sound effects and voices overs. 
Strindberg's original text is supplemented by the poetry of the Danish writer, Inger Christensen, to provide the interior thoughts of Kristin.  Fraulein Julie was directed for the Schaubühne Theatre (Berlin, Germany) in 2010 and has toured to over 100 different venues across the globe since it opened.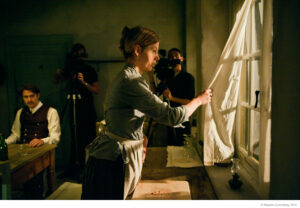 Following the screening of Fraulein Julie, Katie Mitchell will join us via Zoom for a Q&A moderated by Prof. Talijancic, along with a panel of MFA John Wells Directing Fellows and Professor Erika Latta (Assistant Professor of Theater Performance, School for the Contemporary Arts at Simon Fraser University in Vancouver, Canada.)
—
Katie Mitchell
Katie Mitchell has directed over 100 productions in a career spanning 30 years. She directs mainstream text-based theatre, opera, and live cinema productions (a unique combination of video and theatre techniques). In the UK she has directed 9 productions for the Royal Shakespeare Company, 19 for the National Theatre and 12 for The Royal Court – and she has been an Associate Director at all three organizations. In opera, she has directed for English National Opera, Glyndebourne Opera, Welsh National Opera, and the Royal Opera House.
She is currently a Professor in Theatre Directing at Royal Holloway University where teaches an MA directing course.  Her other academic roles include Visiting Professor of Opera at Oxford University in 2017, Visiting Fellow at Central St Martin's in 2016 – 2018, and an Honorary Fellow at Rose Bruford College, in 2014. She is currently a Cultural Fellow at Kings College, London, the TORCH Visiting Fellow in Theatre at Oxford University, and Visiting Lecturer at Columbia University, New York.
Ivan Talijancic
Ivan Talijancic is a director and cultural producer working at the intersection of theater, film, dance, performance, music, installation art and new media, in New York City and around the globe. Born in the former Yugoslavia and raised in Italy before immigrating to the United States, Ivan completed his university studies with a BA in Theatre (cum laude) at the University of California, San Diego and an MFA in Directing at Columbia University's School of the Arts in New York City on a Kathryn Bache Miller Scholarship, and has assisted Robert Wilson and Julie Taymor as part of his graduate internship program. Immediately upon completion of his studies, Ivan co-founded WaxFactory, for which he has created and produced over 20 performance, installation and film/video works to date, presented on four continents. Alongside his work with the company, Ivan has maintained a dynamic career path as an educator, producer, journalist as well as a freelance director in non-profit and commercial realm. Read more…