Hotel Pro Forma "WAR SUM UP: Music, Manga, Machines" with Kirsten Dehlholm
April 17, 2022 12:00 PM–2:30 PM
Frank-Ratchye STUDIO for Creative Inquiry
Carnegie Mellon University
4919 Frew Street
Pittsburgh, PA 15213
Join us Sunday, April 17 at 12PM (EST) for a Screening of Hotel Pro Forma's "WAR SUM UP: Music, Manga, Machines," followed by a Q&A with Hotel Pro Forma Founder, Kirsten Dehlholm, moderated by Ivan Talijancic (CMU-Drama Special Visiting Faculty in the John Wells Directing Fellowship). Please RSVP!"WAR SUM UP" tells a story of war through three main characters; the Soldier, the Warrior, and the Spy. Each story is intensified and enlarged when the voices of the Civilians are heard, as a large choir (Latvian Radio Choir). WAR SUM UP combines several musical expressions and styles. Newly composed classical music creates a spheric, electronic sound image. Original pop-music describes the three characters with a mix of chamber pop and electronica, entangling man and machine. The old world meets with the new when old texts unfold in the electronic universe to tell the never-ending story of war. Read more.
Runtime: 1 hr 20 minutes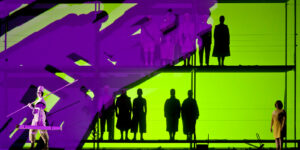 Kirsten Dehlholm (she/her) has worked with performance art since 1977. She is the founder of Hotel Pro Forma (1985-). Kirsten Dehlholm's current work includes concept and direction for Hotel Pro Forma, as well as directing opera, theatre, and performance art internationally. Hotel Pro Forma is a production company of performances and exhibitions. Every production is a new experiment and contains a double staging: contents and space. The architecture and the traditions of the venue are part of the performance as a co-player. Perception, perspective and themes from the world today intertwine with each other in a conceptual, visual and musical work of art. Each production is the result of a close collaboration of professionals from many disciplines: the visual arts, architecture, music, film, literature, science, and digital media.The productions by Hotel Pro Forma are characterized by immense diversity, as the space, concept, collaborators, and performers change from one work to the next. Hotel Pro Forma has created performances for museums, public buildings as well as for theatres in Europe, Asia, Australia, Russia, Canada and USA. Kirsten Dehlholm and Hotel Pro Forma have received many prestigious awards from important Danish and European Arts Institutions. In 2015, she was awarded with the distinguished Artist Award for the Performing Arts (ISPA) as well as the Danish Honorary Reumert Award for her lifelong work.
Ivan Valentin Talijančić (he/him) is a time-based artist and cultural producer, working at the intersection of theater, dance, film, installation art, new media, journalism, curatorial work and education in New York and around the globe. Ivan completed his undergraduate studies in theater at the University of California, San Diego, and earned his Master of Fine Arts degree at Columbia University in New York City under the mentorship of Anne Bogart and Robert Woodruff. Along with Erika Latta, he is the co-founder of WaxFactory, a New York-based international multidisciplinary art group. His works have been shown at numerous venues throughout the New York City (Lincoln Center, PS122, Abrons Art Center, 3LD Art+Techology Center, Japan Society, Dixon Place, HERE, Soho Rep, The Invisible Dog) and at numerous international venues and festivals including the ICA/Institute for Contemporary Art (London, UK,) Sónar (Barcelona, Spain,) Centre Pompidou (Paris, France,) Gulbenkian Museum (Lisbon, Portugal,) Zürcher Theaterspektakel (Zurich, Switzerland,) FIT/International Theater Festival (Caracas, Venezuela,) Centro Julio Le Parc (Mendoza, Argentina,) Adelaide Festival (Adelaide, Australia) and many others.
His creative projects have likewise been supported by numerous grants, fellowships and residencies, including Akademie Schloss Solitude (Stuttgart, Germany,) Bogliasco Foundation (Genova, Italy,) Emily Harvey Foundation (Venice, Italy,) the Hermitage Artist Retreat (Manasota, FL,) the Marble House Project (Dorset, VT,) etc.
Ivan has lectured at many prestigious universities in the United States and abroad (New York University Tisch School of the Arts / Playwrights Horizons Theater School – Devised Theater Program, Barnard College at Columbia University, Princeton University, Brown University, Towson University, Lewis & Clark College, City University of New York, and most recently at the Filmakademie Baden-Württemberg (Stuttgart, Germany,) and Università Ca' Foscari (Venice, Italy.) Ivan is also the founder of CPP / Contemporary Performance Practices, an international summer training program returning to Croatia in July 2022.
His first independent feature film in-the-making, 416 MINUTES(416分) will had an avant-premiere screening at the Films Like No Other film festival on the island of Brač, Croatia in August 2021. He is currently developing his second screenplay for a science-fiction film titled ÌD.
He is currently developing a new immersive, site-specific performance, TRACES, based on the work of Sophie Calle, in collaboration with the playwright Rachel Jendrzejewski.