RESCHEDULED for 12/1 @ 6pm : Framing Agnes: Screening and Q&A with Dr. Jules Gill-Peterson
December 1, 2022 6:00 PM–8:00 PM
4919 Frew Street, Pittsburgh 15213
College of Fine Arts - Room 111
Carnegie Mellon University
Jules Gill-Peterson, Mary Lou-Arscott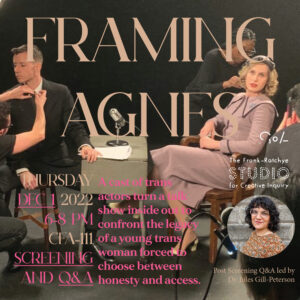 We are delighted to be hosting a screening of Framing Agnes including a special Q&A led by Trans Studies Scholar Dr. Jules Gill-Peterson.
Framing Agnes (Dir. Chase Joynt) features a cast of trans actors turn a talk show inside out to confront the legacy of a young trans woman forced to choose between honesty and access.
This screening is made possible with support from the 2022-2023 Sylvia & David Steiner Speaker Series and School of Architecture Advanced Option Synthesis Studio with Professor Mary-Lou Arscott.