F*ck the Norm: Disability as Creative Asset with Regan Linton
April 17, 2023–April 18, 2023
Purnell Center for the Arts and the Frank-Ratchye STUDIO for Creative Inquiry
Carnegie Mellon University
5000 Forbes Avenue, Pittsburgh PA 15213
Regan Linton, Miso Wei
F*ck the Norm: Disability as Creative Asset with Regan Linton // Steiner Lecture in Creative Inquiry, 04/18/2023 from STUDIO for Creative Inquiry on Vimeo.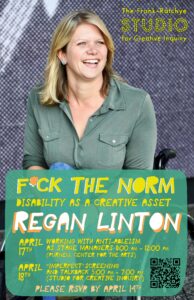 Join us for two days of public events with Regan Linton supported by the 2022-2023 Sylvia & David Steiner Speaker Series. Invited by Miso Wei (CMU Drama), Regan will be working with both students and the general CMU community to share her work a leader in inclusive practices in the arts!
April 17th
Join us at 11:00am-12:20pm for the Working with Anti-ableism as a Stage Manager & Theatre Space Tour in Purnell Center for the Arts (Drama).
April 18th
Join us in the STUDIO on April 18th at 5PM for a special screening of 'Imperfect: The Film' with Director and accessibility advocate Regan Linton.
Bio
Regan Linton (she/her) is an award-winning actor, director, filmmaker, writer, voiceover artist, educator, and internationally-recognized leader in inclusive practices in the arts. She has been a trailblazer as a theatre artist on wheels, performing at top theatres from Broadway to Osaka including Arena Stage, Manhattan Theatre Club, Oregon Shakespeare Festival, Mixed Blood Theatre, Denver Center for the Performing Arts, La Jolla Playhouse, and Phamaly, among others. She frequently advises on accessibility and disability aesthetics for projects spanning entertainment, business, and social justice, and recently served as Accessibility Consultant on the immersive David Byrne project Theatre of the Mind. She is co-director of the award-winning documentary imperfect (2021) about disabled theatre actors, and she spent 5 years as Artistic Director of the preeminent disability-affirmative Phamaly Theatre Company in Denver. Regan is a regular featured columnist for New Mobility Magazine covering topics such as body image, sexuality, and self-actualization. She is currently co-creating a new interactive happy hour experience featuring her in the role of FDR. Regan is passionate about obliterating stale and inauthentic narratives about disability and difference, and building new ones rooted in humor and gravitas. Training: MFA, UC San Diego. Regan lives with a T-4 complete spinal cord injury. reganlinton.com