Two Nights Out with the Dragon Sisters
August 30, 2021 9:00 PM–August 30, 2021 10:30 PM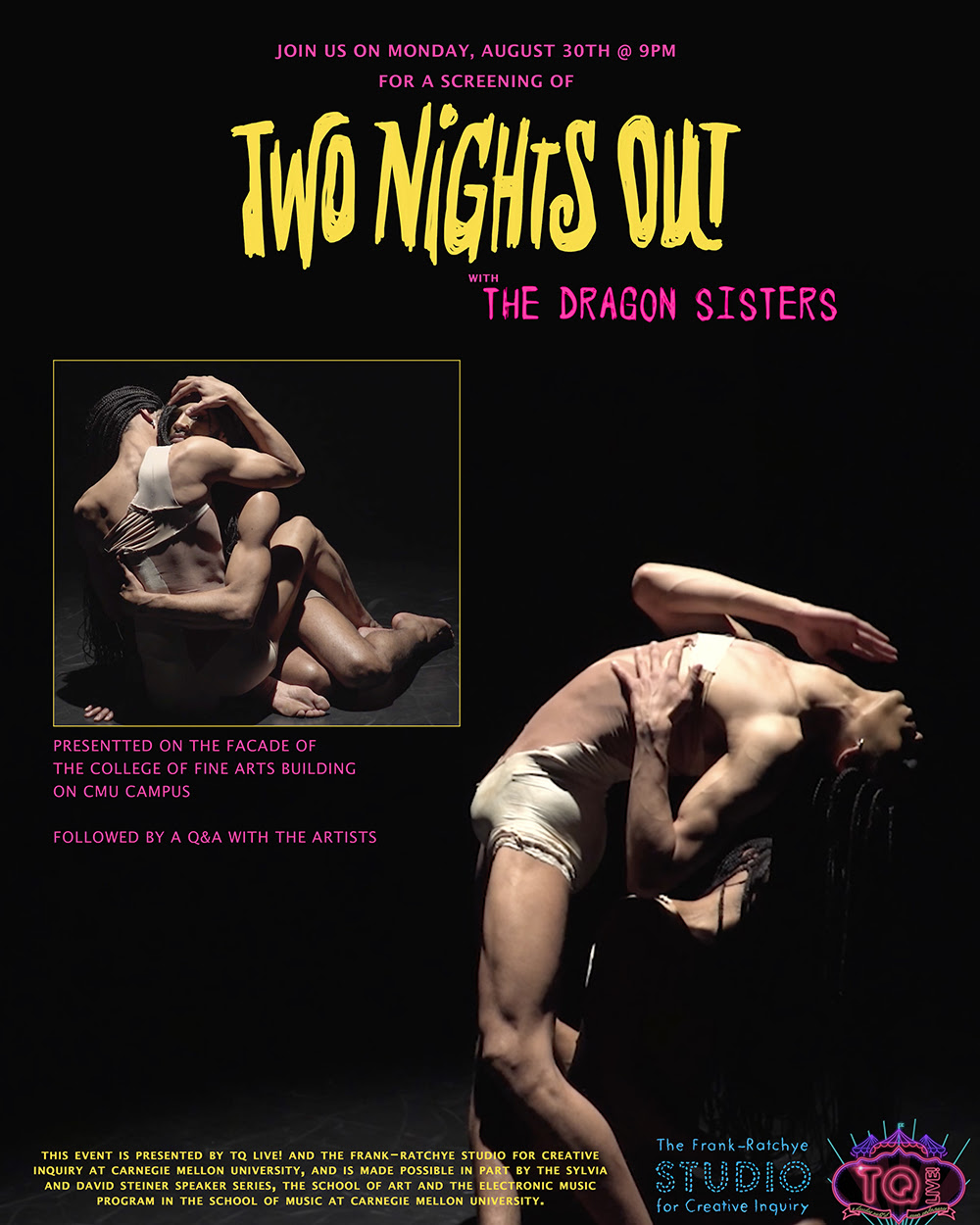 Join us Monday, August 30th at 9pm for a free outdoor screening and artist Q&A with The Dragon Sisters! Presented on the façade of the College of Fine Arts Building on CMU campus, Two Nights Out is a visual EP featuring dynamic performances and original music created by The Dragon Sisters. This multimedia film is a deep dive into the sisters' musical prophecies and creative aesthetic. It explores themes of relationships, non-binary gender expression, and toxic masculinity. Two Nights Out illustrates the many dualities of The Dragon Sisters as dance performers and rap artists; soulmates and collaborators; and bearers of historical trauma and activists. The piece is a three dimensional realization of their most recent music project, The Fine Print EP. It is a love letter to their community and their sisterhood.
About The Dragon Sisters
The Dragon Sisters (Issa & Odessa) are a multidisciplinary nightlife duo based in Brooklyn. They are equal parts hip hop, pop, and classical. Conceived in the dance theater world, the Sisters have stormed stages across the country—at events and venues including Bushwig, The Box, The Paradise Club, The Diamond Horse Show, the Park Avenue Armory, Lady Fag's Holy Mountain, and various Voss Events productions. Their creative collaborations have included projects with Darrel Throne, Spencer Ludwig, and Ariana & the Rose. Their work as musicians and creators and performers has been featured in publications including Elle Magazine, Vanity Fair, and Billboard.com.
About Cain (Odessa) Coleman
Cain (Odessa) Coleman (he/him/his/she/her/hers/they/them/theirs) is an artist, curator, and director. They have performed nationally and internationally as a company member with Philadanco, The Martha Graham Dance Company, Bill T Jones/Arnie Zane Company and The Metropolitan Opera. Cain is a founder and co-Artistic Director of Coleman Collective–a nonprofit organization dedicated to advancing the arts through performance, collaboration, and education.
About Issa Perez
Issa Perez (he/him/his/she/her/hers/they/them/theirs) was most recently featured in the cast of Punchdrunk's Sleep No More, and is the co-Artistic Director of ColemanCollective. They spent four years as a company member with Andrea Miller's Gallim Dance, and have worked with choreographers including Loni Landon, Amy Gardner, Chuck Wilt, Kate Skatpetowska and Damani Pompey. Perez has been featured as a model in campaigns by Adidas, Alexander Wang and Daniel Vosovic's, The Kit, and on Billboard.com with rap duo, The Dragon Sisters.
---
Two Nights Out by the Dragon Sisters was curated by Eva Yaa Asantewaa and commissioned by Gibney and as part of the organization's Gibney Presents series, for the Deeper FY21 Season. This event is presented by TQ Live! and the Frank-Ratchye STUDIO for Creative Inquiry at Carnegie Mellon University, and is made possible in part by the Sylvia and David Steiner Speaker Series, the School of Art and the Electronic Music Program in the School of Music at Carnegie Mellon University. TQ Live is an extension of the CAS Media Initiative Project Trans-Q Television.