Dorothy R. Santos, Steiner Spring Visiting Artist Residency Lecture @ the STUDIO!
March 2, 2023 5:30 PM–6:50 PM
4919 Frew Street
College of Fine Arts, Room 111
Frank-Ratchye STUDIO for Creative Inquiry
Dorothy Santos
The STUDIO's Spring Visiting Artist supported by the 2022-2023 Steiner Speaker Series is Dorothy R. Santos! (In Pittsburgh from March 2nd through March 17th)
RSVP to catch Dorothy's public lecture in the STUDIO on Thursday March 2nd from 5:30 to 6:50 PM.
Join us the next day in the STUDIO for a Welcome Lunch with Dorothy from 12-1:30PM with Free Pizza and Conversation!
REGISTER for a Creative Non-Fiction Workshop with Dorothy and Pittsburgh Artist Adrian Jones on March 11th from 3-7PM at KST Alloy Studios (Dinner Provided)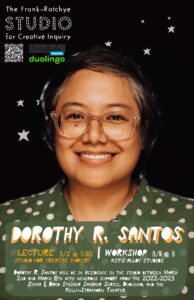 Dorothy R. Santos (she/they) is a Filipino American storyteller, poet, artist, and scholar whose academic and research interests include feminist media histories, critical medical anthropology, computational media, technology, race, and ethics. Join us in the STUDIO for a lecture on her current work, The Cyborg's Prosody. The Cyborg's Prosody is an interactive app, creative intervention, and response to the establishment of "accent reduction schools" in the Philippines, which has the highest number of call centers and virtual agents in the world. The project features a mobile app that has users speak Tagalog and serves as an "accent induction school" — providing a decolonial method of exploring how language is learned, human-computer interaction, listening, and accent preservation.
During their last week in Pittsburgh, consider reaching out to have Dorothy join your courses and studios between March 13th and 17th!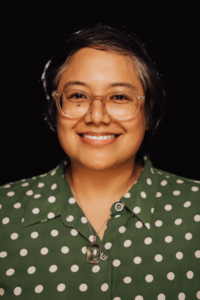 More on Dorothy
Dorothy is a Ph.D. candidate in Film and Digital Media at the University of California, Santa Cruz as a Eugene V. Cota-Robles fellow. She received her Master's degree in Visual and Critical Studies at the California College of the Arts and holds Bachelor's degrees in Philosophy and Psychology from the University of San Francisco. Her work has been exhibited at Ars Electronica, Rewire Festival, Fort Mason Center for Arts & Culture, Yerba Buena Center for the Arts, and the GLBT Historical Society.
Her writing appears in art21, Art in America, Ars Technica, Hyperallergic, Rhizome, Slate, and Vice Motherboard. Her essay "Materiality to Machines: Manufacturing the Organic and Hypotheses for Future Imaginings," was published in The Routledge Companion to Biology in Art and Architecture. She is a co-founder of REFRESH, a politically-engaged art and curatorial collective and serves as the Executive Director for the Processing Foundation. In 2022, she received the mozilla Creative Media Award for her interactive, docu-poetics work The Cyborg's Prosody (2022). She serves as an advisory board member for POWRPLNT, slash arts, and House of Alegria.