Dimitris Papaioannou's "The Great Tamer"
February 5, 2023 12:00 PM–3:00 PM
4919 Frew Street
Frank-Ratchye STUDIO for Creative Inquiry
CFA - Room 111
Pittsburgh, PA 15213
Ivan Talijančić
RSVP HERE to make sure you receive the zoom link for our international/remote attendance and to help us estimate an in-person headcount. The STUDIO strongly recommends guests wear masks for indoor events. The work being screened includes nudity, please use your best judgement in attending.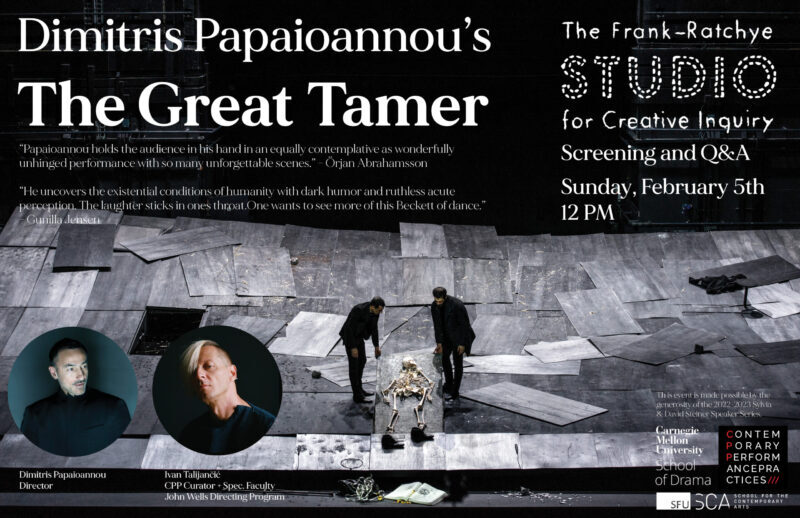 Join us in the STUDIO on Sunday February 5th at Noon for a screening of Dimitris Papaiannou's "The Great Tamer," followed by a Live Q&A with Dimitris via zoom, moderated by Prof. Talijancic, along with a panel of MFA John Wells Directing Fellows and Professor Erika Latta (Assistant Professor of Theater Performance, School for the Contemporary Arts at Simon Fraser University in Vancouver, Canada.)
This work is brought to the STUDIO by Ivan Talijančić of Contemporary Performance Practices and Special Visiting Faculty in the School of Drama John Wells Directing Program, with support from the 2022-2023 Sylvia & David Steiner Speaker Series, and in collaboration with Simon Fraser University / School for the Contemporary Arts.
"The Great Tamer" is a 95-minute performance, created by Dimitris Papaioannou in 2017.
It was initiated as a commission by Théâtre de la Ville (Paris, France,) in collaboration with the Avignon Festival and of the Onassis Stegi, which stepped in as the main producer. This was the first international co-production of a Dimitris Papaioannou piece.
As DP has said in several discussions with the public, the emotion that caused this sequence of images was the one stored inside him as he followed the unfolding of events in the wake of 20-year-old Vangelis Yakoumakis' bullying tragedy in Greece in the winter of 2015.
The title was given by Aggelos Mendis, who designed the costumes and collaborated in the work's art direction, and who also came up with the titles for DP's four most recent pieces. Homer's concept of time as Chronos Pandamator, "Time Who Tames All Things", is the reference.
"The Great Tamer" toured for two and half years, through 4 continents, 23 countries and 38 cities. It was presented a total of 112 times, before over 90.000 spectators.
Bios
Dimitris Papaioannou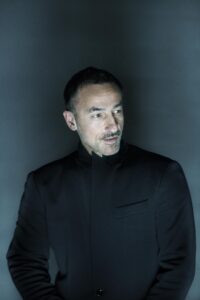 Dimitris Papaioannou gained early recognition as a painter and a comic-book artist. He then turned to the performing arts as a director, choreographer, performer, and designer of sets, costumes and lighting. A fine arts graduate, he approaches the creative process through imagery and drawing. The first artistic cycle of his stage work revolved around Edafos Dance Theatre, the group he worked with for 17 years until 2002. Medea (1993), presented at the 1998 Dance Biennale, marked the company's transition to big venues, and is considered the touchstone of his oeuvre. His work on creating the opening ceremony for the Athens Olympics in 2004 brought Dimitris Papaioannou international renown. Since 1986, his personal work has been a hybrid exploration of experimental dance: a blend of physical theatre, motion art and performance, in which he interrogates creation, identity and the legacy of our Western cultural memory. Read more…
Ivan Talijančić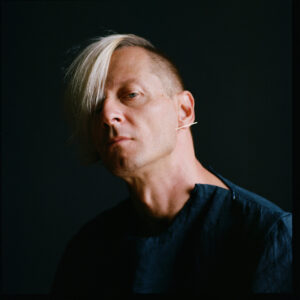 Ivan Talijancic is a director and cultural producer working at the intersection of theater, film, dance, performance, music, installation art and new media, in New York City and around the globe. Born in the former Yugoslavia and raised in Italy before immigrating to the United States, Ivan completed his university studies with a BA in Theatre (cum laude) at the University of California, San Diego and an MFA in Directing at Columbia University's School of the Arts in New York City on a Kathryn Bache Miller Scholarship, and has assisted Robert Wilson and Julie Taymor as part of his graduate internship program. Immediately upon completion of his studies, Ivan co-founded WaxFactory, for which he has created and produced over 20 performance, installation and film/video works to date, presented on four continents. Alongside his work with the company, Ivan has maintained a dynamic career path as an educator, producer, journalist as well as a freelance director in non-profit and commercial realm. Read more…