COLD HEARTED SNAKE: Screening in the STUDIO of the 1995 Valentine's Day Pittsburgh AIDS Task Force Benefit Show @ Lucky's in the Strip
October 13, 2022 6:00 PM–8:00 PM
4919 Frew St
CMU College of Fine Arts Rm 111
Frank-Ratchye STUDIO for Creative Inquiry
Harrison Apple, Jazmine Butterfly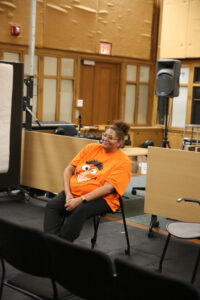 Join us in the STUDIO on October 13 at 6PM for "Cold Hearted Snake" a screening of the 1995 Valentines Day Fundraiser at Lucky's in the Strip for the Pittsburgh AIDS Task Force (now known as Allies Health). This screening's featured guest host is Pittsburgh-based HIV/AIDS awareness advocate and Trans rights activist Jazmine Butterfly. All are welcome to join us for popcorn, history, and a chance to learn from Jazmine who also happens to be on tape setting the air on fire with her performance of Paula Abdul's "Cold Hearted Snake."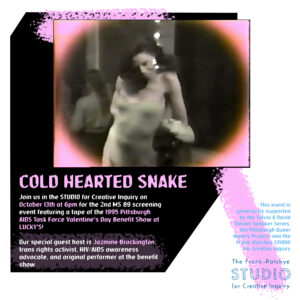 This event is part of the Pittsburgh Queer History Project Community Archives Screening series "MS 89" – a live & in-person only series of nightclub archives screening events with community guest hosts to create new intergenerational friendships via our shared desire for a shared past. It is made possible by generous support of the Sylvia & David Steiner Speaker Series, the Pittsburgh Queer History Project and the Frank-Ratchye STUDIO for Creative Inquiry.
This event is free and open to the public.
Please contact STUDIO Assoc. Director Harrison Apple with any questions.
*Please note the surname Butterfly has been updated since the event took place.