About Ed Frank & Sarah Ratchye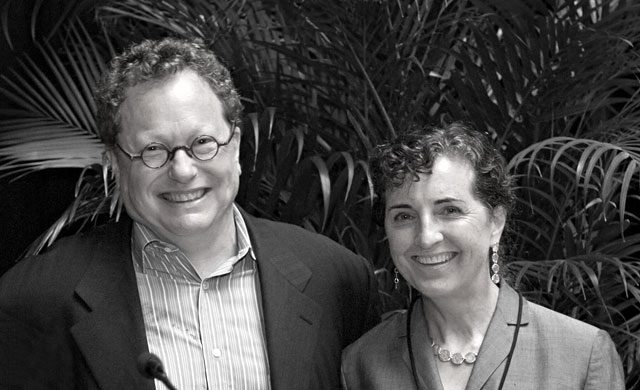 The Frank-Ratchye STUDIO for Creative Inquiry, and our grants program, the Frank-Ratchye Fund for Art @ the Frontier, are named in honor of the generosity of our benefactors, Sarah Ratchye (A'83) and Edward Frank (CS'85).
Sarah Ratchye is a Carnegie Mellon alumna and artist whose work has been exhibited in numerous one-person and juried shows and is in private collections in the United States and Australia. She served as a member of the Board of Trustees of the San Jose Museum of Art (SJMA) from 2001 through 2010, and was chairman of the SJMA collections committee. Ratchye has earned degrees from CMU, Stanford University, and the San Francisco Art Institute.
Ed Frank is a Carnegie Mellon alumnus, University Life Trustee, and Chairman of Inspire Innovation: The Campaign for Carnegie Mellon University. He is Vice President of Macintosh Hardware Systems Engineering at Apple, Inc. Previously, he was Corporate Vice President for R&D at Broadcom Corporation. He was also a Co-Founder of Epigram, a home networking company acquired by Broadcom in 1999, and a Distinguished Engineer at Sun Microsystems. Frank holds over 40 U.S. patents.
Ratchye and Frank are passionate collectors and supporters of the arts. Their personal collection includes over 300 pieces and spans a wide variety of media, with a focus on electronic art and pop-surrealism. They have underwritten performances of the Kronos Quartet, Laurie Anderson, and the Merce Cunningham Dance Company. Ratchye and Frank are also the parents of two daughters, Whitton, who received a Bachelor of Humanities and Arts degree from CMU and is an actress in Los Angeles, and Naomi, who is an artist and musician in New York City.
Anchored in the STUDIO, the Frank-Ratchye Fund For Art @ the Frontier was established in May 2012 to help encourage and support the creation of "new, great works of art" by the faculty, staff and students of Carnegie Mellon University. Its vision is to develop a cache of new artworks created at CMU: innovative works of high quality, that can be described as "thinking at the edges" of the intersection of disciplines.