Readings in Performance and Ecology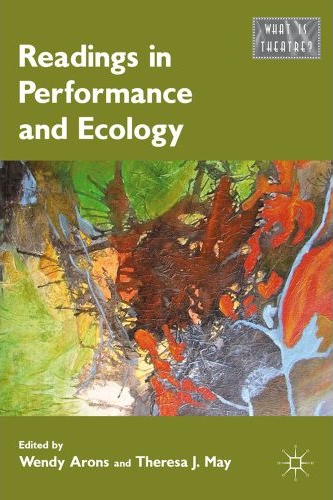 Readings in Performance and Ecology
Edited by: Wendy Arons (Assoc. Professor of Dramaturgy, CMU), Theresa J. May (Asst. Professor of Theatre Arts, U. Oregon).
This ground-breaking collection focuses on how theatre, dance, and other forms of performance are helping to transform our ecological values. Top scholars explore how familiar and new works of performance can help us recognize our reciprocal relationship with the natural world and how it helps us understand the way we are
connected to the land.
The Performance and Ecology project, directed by STUDIO fellows Wendy Arons and Theresa J. May, focuses on the power of performance and theater to raise awareness about ecological issues, stimulate activism, build coalitions, and generally move and inspire spectators to action. The work requires forging interdisciplinary connections between the fields of environmental science and studies and performance. Project activities include: panels and talks on the practice and history of environmental theatre; staged readings and performances of award winning plays from the Eco-drama festivals, as well as other works; development of courses on the history of environmental theater; and the publication of an edited collection of essays on performance and ecology.
The table of contents and introduction to this book can be viewed here, the full book can be found here.
Contributors:
Robert Baker-White, Derek Barton, Una Chaudhuri, Downing Cless, Anne Justine D'Zmura, Sara Freeman, Kathleen Gough, Nelson Gray, Cornelia Hoogland, Baz Kershaw, Bruce McConachie, Justin Miller, Meg O'Shea, Sarah Standing, Arden Thomas, Nala Walla, Martin Welton, Barry Witham
Supported by the Center for the Arts in Society (CAS)