We Lived In The Gaps Between The Stories
Lena Chen (2021)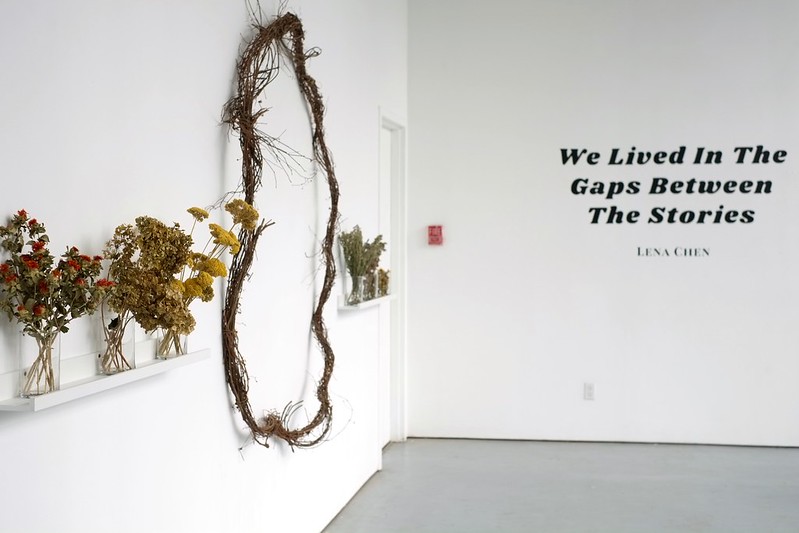 We Lived In The Gaps Between The Stories is a participatory artwork celebrating the labor of abortion providers, midwives, healers, herbalists, doulas, clinic escorts, and all who care for abortion seekers. In a reciprocal act of labor, School of Art MFA student Lena Chen worked with Cincinnati florist Patricia Campos, herbalist Ellie Mae Mitchell, growers Village General and Camp Washington Urban Farm, and chef Madeline Ndambakuwa to create a series of public programs using abortifacients and emmenagogues (plants with contraceptive properties). Visitors were invited to contribute to the project by writing thank you letters and co-creating a communal wreath displayed at Wave Pool Gallery. Abortion workers were then honored in a gratitude ceremony where they were presented with individual wreaths and a collective poem recognizing their work.
We Lived In The Gaps Between The Stories by Lena Chen:: Supported by FRFAF #2021-046 from STUDIO for Creative Inquiry on Vimeo.
We Lived In The Gaps Between The Stories was made for the inaugural Vance Waddell artist residency, in which a selected artist creates a new work in conversation with pieces from the Sara M. & Michelle Vance Waddell Collection in Cincinnati. The project was supported in part by grants #2020-014 and #2021-046 from the Frank-Ratchye Fund for Art @ the Frontier.