Torn
Catherine Mondoa (2018)
"Torn" was a couture line designed by Catherine Mondoa (College of Engineering) for the 2019 Spirit Fashion Show at Carnegie Mellon University.  2019 SFS's theme was "Apollo" describing a journey of introspection — the internal journey of discovering our own inner light and rectifying our flaws to approach a liberating sense of self-realization, all expressed through the artistic mediums of fashion, music, and dance.

Mondoa describes her collection piece by piece:
"The first look was, a sheer, all white cape, accompanied by a jewelled, white veil, over a simple white elastic "body suit" with white ribbons on the wrists and ankles and white shoes. This look discussed the expectations of women's sexuality through the lens of Roman Catholic tradition and modern views of women's sexual liberation. She is fully covered and yet fully visible. She is wrapped like a present – a gift to herself or to her husband? The ribbons are both decoration and shackle, asking the question of whose is her body. This gown asks about our views on purity. It takes inspiration from imagery of the Virgin Mary, with elements of blue and white. She wears the colors of a spotless bride, and yet her garb flows around and off her as she moves. Under the shifting fabric, she wears simple white coverings."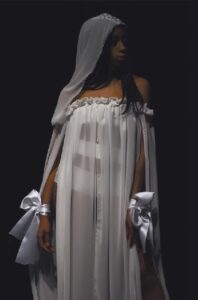 "The second look was a skin colored latex bodysuit, with jewels around the breasts, through the mid stomach, and around the nether regions. There are also two stuffed latex pillows beneath the breasts. In addition, there are flowing, skin color mesh trains on her left hip and over her right shoulder, and her face is covered with a flowing mesh headpiece. This gown is a discussion on beauty and the body. She is dressed in all skin colored material as a statement of natural beauty. The materials are blatantly unnatural, latex and mesh, to form a subtle and tangible question on false or enhanced beauty. This is further emphasized by the latex pillows beneath the breasts, symbols of the lengths women go to enhance themselves in the name of beauty and self love. Her face is covered, removing emphasis from who she is as a whole person and focusing on what she is or rather calling more attention to a major source of beauty and insecurity in women – the body. This outfit is meant to be sexy and yet also bare and raw. She is the statement – the garment flows around her, and the pieces seem to be part of her. What is beauty to her? This garment places emphasis on the reception of her beauty rather than her feelings on what makes her beautiful."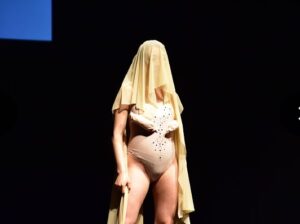 "The third garment was a two in one gown. The first piece was a flowing, yellow cape gown with a clasp in the front and feathers flanking the front and patterning the back. The second was a black skirt-bandeau two piece. The bandeau had black flowers encircling the bottom seam. The skirt was created by forming a waistband and attaching blends of fabrics around the width. This created an incredibly textured look, such that, though it was all black, the eye couldn't help but pry deeper into what it was seeing. This garment was a statement on mental health and the behaviors it manifests. When she first steps out, she is a vision in bright yellow. She stands tall and proud, showcasing the kind of blind happiness that leaves no room for dark. Mid stage, she dropped this cape, revealing a dark and complicated interior. The yellow attempts to hide what's underneath, but the black prevails. There is more to this garment; there is more to the story. This is an opportunity to shed the pretenses and to live knowing that not all in life is just bright and dark. There is beauty in both elements, and there is a natural balance between the bright and dark that makes life more fulfilling. I've often felt that I put on a bright exterior and hid away the darker sides of my personality or thought. This was a way for me to open up that dichotomy and realize my own personal growth – living a life where there is in between and vulnerability and growth through joy and pain."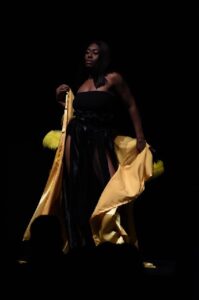 "Finally, there was my gown, a blue velvet corset bodysuit, with a sheer mid panel and small side sleeves encircled with Chantilly lace. The skirt of the gown was a blue chiffon underskirt, layered with blue Chantilly lace, slit at the center, with a floral bustle and chiffon-lace train. This gown was incredibly floral, symbolizing growth and hope. It had sheer elements similar to the first gown. It had a close fit and emphasis to form like the second, and it incorporated a mix of heavy and light textures, bright and dark colors, similar to the third outfit. This dress is a culmination of this chapter and a call to push forward. There is a sense that there is more growth to come, but I'm happy to see that this is where I am now – look how far I've come, how far we've come!"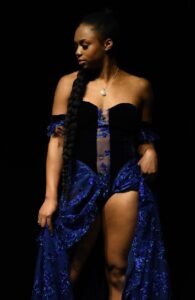 This project was supported in part by Microgrant# 2019-026 from the Frank-Ratchye Fund for Art @ the Frontier.