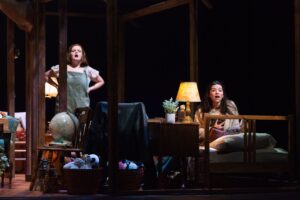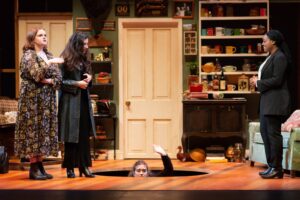 HAUNT
(verb) to reappear continually in
(noun) a place habitually frequented
Following her passing, Hetty, Selina, Caroline, and Penelope reunite at their former teacher's cabin in the woods in Stowe, Vermont. She has left them a great gift: the cabin itself. The cosmic weight of their reunion causes a hole to open in the floor – leftover magic from a pact made as children. The four friends must break apart to come together. flitting back and forth through time, they must learn to embrace the cycles of life and forge a new path, together or apart.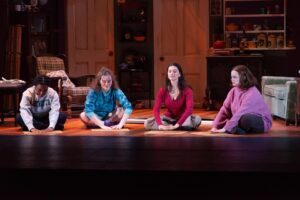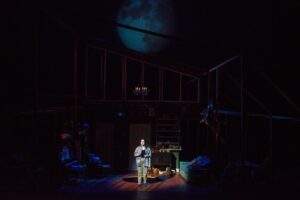 "this old haunt" is an original musical developed by Maggie Marie Rodgers, Rebecca Wahls, and SMJ. Drawing on popular singer-songwriters' sonic and aesthetic palettes, the design team and I created a lush, feminine world rich with saturated color and textures. The world is shrouded in mystery and history – a space that contains a beloved mentor's entire life and holds enticing potential for young women.
Our musical is for everyone who longs to return to a time and place when magic was the answer to the problem. An analog world where time moves differently, where an hour and a year are the same. in essence: our childhood. What do we lose, and what do we gain, as we transition from growing up to growing older?  "this old haunt" has been developed over three years and continues to be developed further; the next closed reading (the first post-CMU production) will be in June 2023 at the Dramatists Guild. Bringing Maggie Marie Rodgers and SMJ to campus for two weeks was an essential step in the further development of this uniquely director-driven new musical creation process.
This project was made possible by FRFF full grant #2022-043.  More images can be found here.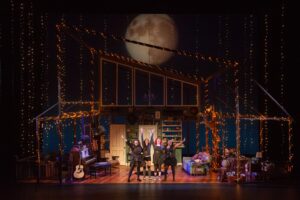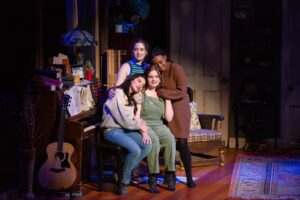 this old haunt
Developed by Maggie Marie Rodgers, Rebecca Wahls, and SMJ
Music & Lyrics by Maggie Marie Rodgers
Book by SMJ
Directed by Rebecca Wahls
Additional arrangements by Annabelle Lee Revak
me to you (5/2/2021)
Hetty: Brittany Martz
Selina: MK
Caroline: Sally Clark
Penelope: Meghan Wright
Stage Directions: Henri Sudy
me to you (7/10/2021)
Hetty: Gianna Meaglia
Selina: Nina Roy
Caroline: Diana Quetti
Penelope: Ruthie Rado
Stage Directions: Henri Sudy
me to you (8/5/2021)
Hetty: Skye Lindberg
Selina: Acacia Danielson
Caroline: Emmy Kupe
Penelope: Ruthie Rado 
Stage Directions: Emily Erickson
this old haunt (9/25/2021)
Hetty: Skye Lindberg
Selina: Madison McVeigh
Caroline: Sally Clark
Penelope: Anne-Marie Pietersma
Stage Directions: Eliza Hallinan
this old haunt (2/13/2022)
Hetty: Brittany Martz
Selina: Jackie Salvador
Caroline: Diana Quetti 
Penelope: Hallie Griffin 
Stage Directions: Henri Sudy
Pre-workshop reading (6/5/2022)
Hetty: Brittany Marz
Selina: Rita Castagna
Caroline: Ceara Ludwith
Penelope: Lucy Hall
Stage Directions: Heni Sudy
Fort Salem Workshop (July 17-24, 2022)
Hetty: Brittany Marz
Selina: Rita Castagna
Caroline: Ceara Ludwith
Penelope: Kayla Zanakis
Music Director: Matt Zweibel
Dramaturgy: Julia "Juju" Nieto
Stage Directions/ Stage Manager: Autumn Fleming
Produced by Kyle West and Rebecca Wahls
CMU Production (November 19-30, 2022)
Hetty: Chloe Brown
Selina: Lucy Hall
Caroline: Annabelle Duffy
Penelope: Carolina Campos
Music Director: Billie Jo Miller
Guitar: James O'Malley Gorbea
Percussion: Etan Cohn
Violin: Andrew Gray
Cello: Vivian Antonio
Scenic Design: Peter M. Rule
Costume Design: Claire Duncan
Lighting Design: Xotchil Musser
Sound Design: Tate Abdullah
Dramaturg: Juju Nieto
Intimacy & Stunt Director: Andrew Smith
Stage Manager: Maggie Latham
Assistant Stage Manager: Brooke Anderson
Production Manager: Keen Ma
Assistant Production Manager: Maureen Pace
Project Manager: Vanessa Mills, Victor Gutierrez
Job Lead: Monica Tran
Wardrobe Supervisor: Hadley Holcomb
Lighting Programmer: Dean Thordarson
Lighting Manager: Jessica Winward
Assistant Lighting Manager: Xuewei Eva Hu
Sound Engineer & Mixer: Bridget Doherty
Assistant Sound Engineer: Daniel Ocanto
Assistant Director: Addie Saltz
Assistant Dramaturgs: Jacey Cassandra Lozada, Valerie Nayak
Assistant Scenic Design: Jonas Harrison
Assistant Lighting Design: Pablo Anton, Kennedi Dixon
Crew: Grace Alai, EJ Berry, Mo Cambron, Malcolm Ehlers, Jesus Feliciano, Valia Kavrakis, Cyril Neff, Allison Schneider, Aashir Sinha, and Mira Teng
Directing Advisor: Kim Weild
Scenic Advisor: Bryce Cutler
Costumes Advisor: Susan Tsu
Lighting Advisor: Rob Thompson
Sound Advisor: Sartje Pickett