The Teenie Harris Archive Project
(2017)
The Teenie Harris Archive Interactive Browser from STUDIO for Creative Inquiry on Vimeo.
Charles "Teenie" Harris was a photographer for one of the most influential Black newspapers of the 20th century, the Pittsburgh Courier. For over 40 years, he captured the major events and everyday experiences of Black life in Pittsburgh. His archive of 80,000 photographs and negatives created the Teenie Harris Archive at the Carnegie Museum of Art in 2001. It is an unparalleled visual resource about life during the Jim Crow Era, the Civil Rights Movement, and the beginnings of US Black radical politics.
The Frank-Ratchye STUDIO for Creative Inquiry developed a four-year collaboration with the Museum of Art to supplement the Museum's efforts to identify, annotate, and organize the Teenie Harris Archive. This critical documentation strategy made his photographic archive newly accessible to the public, and importantly to the extended communities of the people Harris captured on film. The final outcome of this collaboration is a permanently installed interactive touchscreen which organizes the total archive of images by multiple themes and allows users to dig through this overwhelmingly rich resource at a human scale.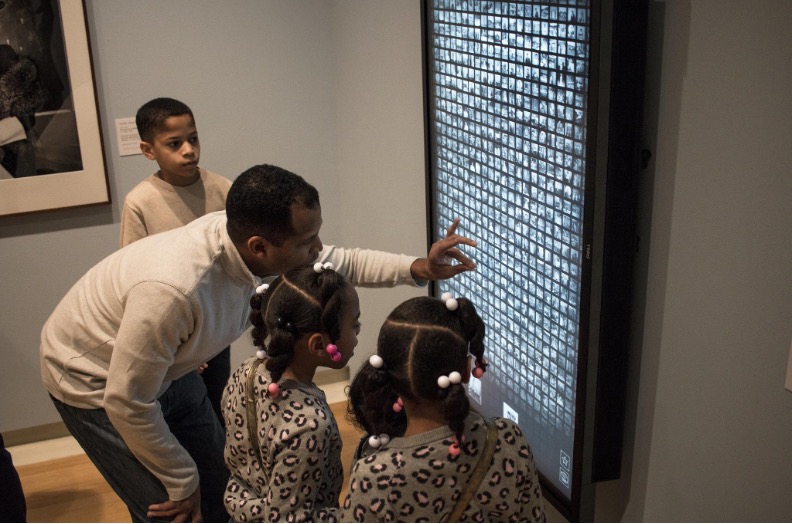 With previous support from the NEH, archivists at CMoA had digitized the Teenie Harris Archive and spent two decades using traditional archival and public history methods to caption, date, tag, and add other metadata to the photographs. This foundational work continues to be done in close coordination with representatives from Pittsburgh's Black community and with oversight by an advisory committee composed of Harris family members, academic subject specialists, and community leaders who insist on the Black community's ownership of the history represented in Harris' images. That work frequently includes interviews collected directly from Teenie Harris' contemporaries, and whenever possible, with the original community members documented in his photographs.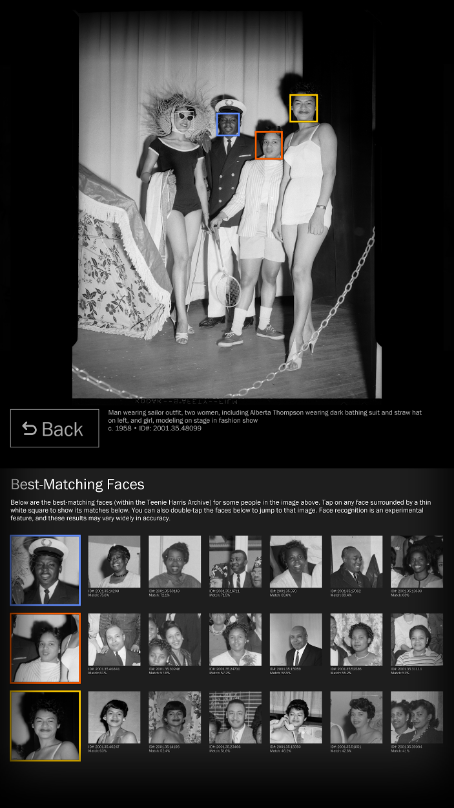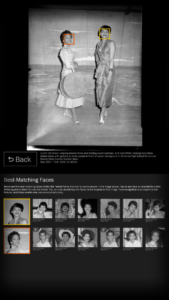 The Teenie Harris Archive application allows users to move through the vast photographic records based on computer vision analysis seeking similarities in landscape, decor, body posture, and facial recognition. Each photograph becomes a portal to another set by seeking out a visual record of an individual across the entire archives.
In March 2016, the Innovation Studio laboratory at the Carnegie Museum of Art provided our STUDIO's team with a hard drive containing 59,278 high-resolution grayscale TIFFs from the Teenie Harris Archive, organized into 718 directories. They also provided access to an online database with accession numbers, brief textual descriptions, and estimated dates (or date ranges) for nearly all of the photographs. We understood that beyond this set, 20,000 additional objects in the Teenie Harris collection remained to be digitized and annotated, possibly including duplicates of the materials we received. Our initial goal was to use our team's collective knowledge of machine learning and computer vision to build an application that would help the CMoA with this significant archival backlog.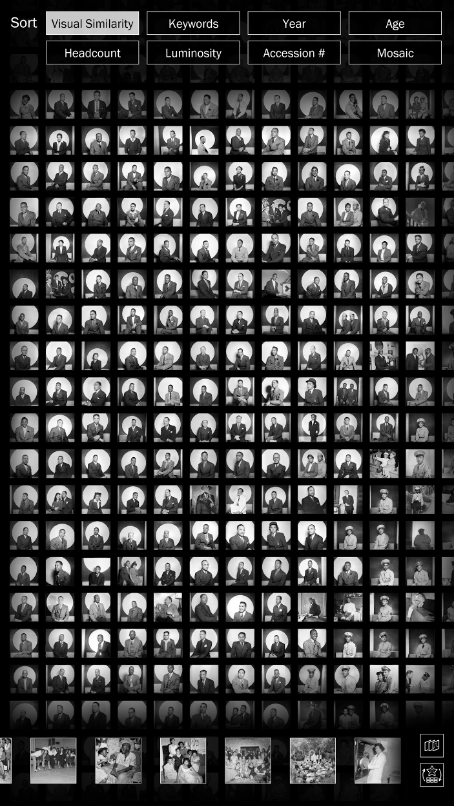 This is an example of a visual similarity "arrangement" of Teenie's photographs, generated by digital image analysis. This arrangement specifically consists of portraits shot in Teenie's studio in front of a circular card he used as a high contrast backdrop. It is one of thousands of arrangements available through a combination of computer vision processes. While we may have set out to create a tool for Museum and Archives professionals, the story behind the Teenie Harris Archive quickly steered our efforts to create a destination for the public to benefit from our research and create a lasting resource for generations to come.
This project was developed at the CMU Frank-Ratchye STUDIO for Creative Inquiry using openFrameworks, Processing, ML4A, and ml5.js, and made possible by support from the National Endowment for the Humanities (Award HAA-256249-17); the Carnegie Museum of Art Teenie Harris Archive, the J. Paul Getty Trust, and nVidia Corporation. Developed by Golan Levin and David Newbury (principal investigators); Zaria Howard, Kyle McDonald, Gene Kogan (machine learning); Lingdong Huang (interactive display); Oscar Dadfar, Luca Damasco, Cassie Scheirer (data preparation); Olivia Lynn (additional software). Additional thanks to Dominique Luster, Louise Lippincott, Caroline Record, Sam Ticknor, and the Innovation Studio at the Carnegie Museum of Art; and to Thomas Hughes, Linda Hager, Carol Hernandez, and Bill Rodgers at the Frank-Ratchye STUDIO for Creative Inquiry.