Sprout Terrarium
Dyani Robarge (2016)
Created by Dyani Robarge, the Sprout Terrarium uses plant matter as a living, insulative wall mass. The voronoi patterns distribute lateral forces across the surface that create an occupiable terrarium installation.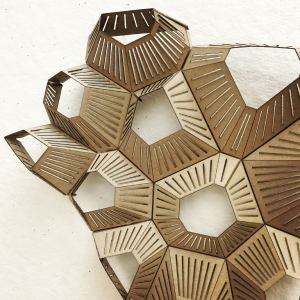 Similar to modernism, the pavilion begins as an exact representation of its structural system. The installation's vacuum-formed panels indicate its fabrication process but the varying density of the sprouts as an aggregate fill registers to the exterior, changing shape over time.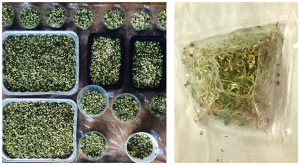 The resulting form emulates a more baroque synthesis between wall mass and ornamentation. The difference between surface and mass is ambiguous. This proposal explores an integration between living matter and structure. Water and light affects mung bean growth and is affected by voronoi geometries. The project resulted in an installation constructed outside on campus grounds, its scale large enough for passing students to walk through and experience.
Made possible with support from Microgrant #2016-021 the Frank-Ratchye Fund for Art @ the Frontier. Additional images can be found here.