Something Massive Looms Overhead
Liz Baker (2019)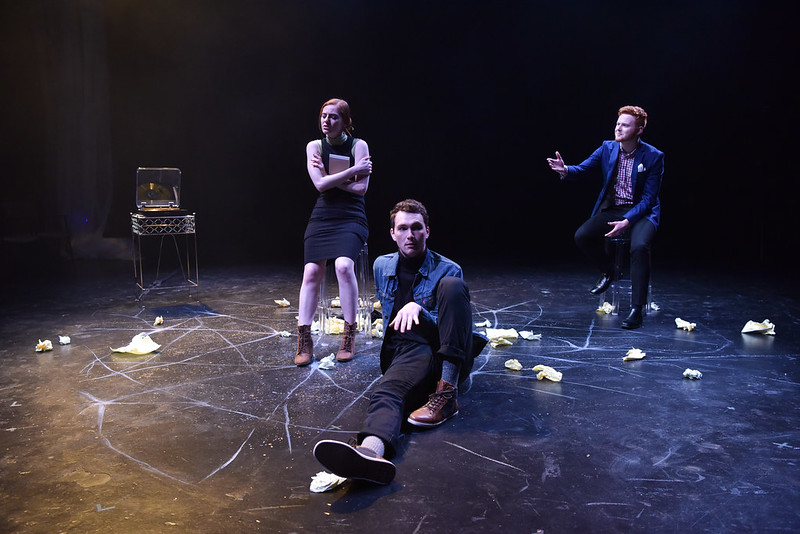 Something Massive Looms Overhead is a performance exploring the challenge of representing life on Earth to extraterrestrial being, and the hypocrisy in choosing to show only the good aspects of humanity. Written by CMU Drama MFA student Liz Baker, and directed in an April 2019 set of performances by Drama MFA student NaTasha Thompson, Something Massive Looms Overhead was supported in part by Microgrant #2019-048 from the Frank-Ratchye Fund for Art @ the Frontier.
It's 1977. Voyagers 1 and 2 are bound for the stars, each carrying a golden phonograph record containing the sounds and images of Earth… just in case any intelligent life forms out there are wondering who we are. The problem is, we don't exactly know ourselves. Three Millennials attempt to answer this by recreating the Voyager Golden Records in 2018 — a process that ultimately forces them to confront the fact that even if we aren't alone in the universe, that doesn't mean we won't be lonely anymore. Something Massive Looms Overhead is a phantasmagoric play about science, communication, human imperfection & existential smallness.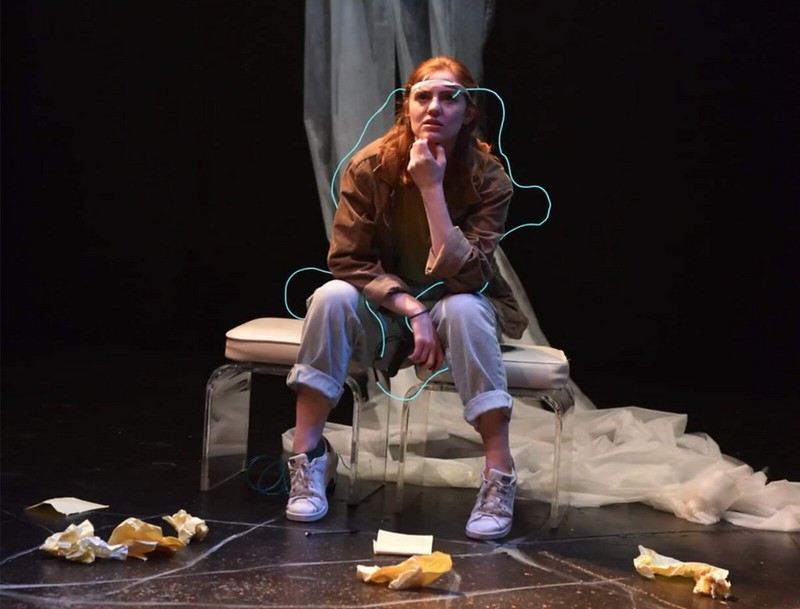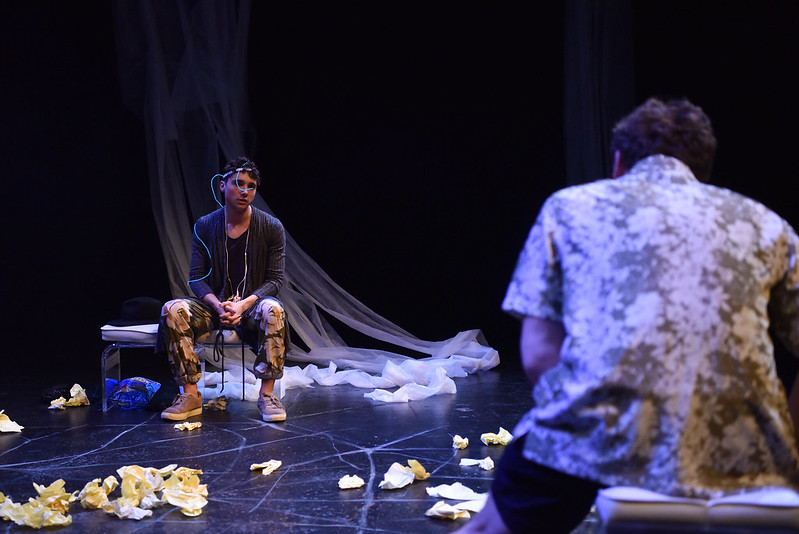 Liz Baker writes: Something Massive Looms Overhead took root as an idea in the summer of 2018 after I became obsessed with the Voyager Golden Records — both the monumental task of representing life on Earth to beings out beyond the bounds of our galaxy and the inherent hypocrisy in choosing to show only the good of what humanity had to offer. In writing many drafts, the story began to take shape around three twenty-somethings in 2018 in a slightly alternate universe — one in which Voyager-2 and its golden contents were found by a curious interstellar traveller — and their subsequent scramble to prove Earth worthy of such a visitor. It was read aloud twice as part of the Carnegie Mellon Dramatic Writers' workshop and scheduled to be produced in April in the School of Drama's New Works series.
In January 2019, I continued revising the play in Ithaca, NY — where the Golden Records were created — as a part of the Hangar Theatre's Artist in Residency (AIRS) program. It was read aloud in a staged reading for an open audience. During that time, I was able to visit Cornell University's Rare Books section and see the records; it was then that I discovered a box set was available for purchase from Ozma Records. On February 9th, I submitted an application to the Frank-Ratchye Creative Inquiry Microgrant in order to purchase said box set and a record player for deeper dramaturgical research and use in the production as props. I continued work on the play with advice from my advisor Rob Handel, my director NaTasha Thompson, and my dramaturg Brian Bizier while I waited for approval of the grant and then delivery of the ordered materials.
Rehearsals began on March 25th. I "froze" the play — for this production anyway — on April 2nd. We received the records and record player on the same day, April 6th, and held a listening party with the cast and creative team in order to immerse everyone in the firsthand experience of what the play talks about. Brian, our dramaturg, used this as well as additional research from me to provide the actors with a "map" of this scientific world. And the records and record player were used in rehearsal as props from that point on. The play was performed April 24th through April 26th to nearly full houses every night. I then received post-production notes from Rob Handel and visiting playwright Aleshea Harris on future rewrites (scheduled to resume at the end of July 2019, three months from the play's closing in order to allow the lessons of the production and the frenzy of research to truly coalesce).
Credits
Written by Liz Baker
Directed by NaTasha Thompson
Featuring Allison Ferebee, Hagan Oliveras,
Patrick Davis, Henri Fitzmaurice, and Trevor Clarida
Assistant Director: Moses Garcia
Production Assistant: Joseph Hefner
Dramaturg: Brian Bizier
Choreographer: Liz Baker
Photography: Louis Stein