Soft Circuits: Creating Circuitry and Sensors with Textiles
Olivia Robinson, Karyn Lao, Kate O'Brien (2015)
Soft Circuits: Creating Circuitry and Sensors with Textiles is a workshop led by Olivia Robinson with Karyn Lao and Kate O'Brien. Soft Circuits explores soft circuitry, handmade sensors, conductive fabrics, and creating with electronic textiles. Participants created their own soft sensors, which became part of an interactive electronic quilt on display following the workshop in the College of Fine Arts Great Hall as part of the wats:ON Festival.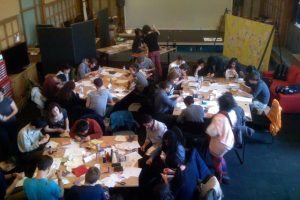 The Soft Circuits workshop ran on Saturday, March 21, 2015.
Participants were asked to bring a piece of textile material that is personal to them, as well as an early memory of textiles or touch. The small textile material will be used to create a sensor, so the cloth should be something participants are willing to cut or manipulate (material for use is also provided on site if participants do not bring their own). Participants will be asked to share their early textile memory for a recording that will become part of the interactive touch-audio quilt; participants may retrieve their personal piece of the quilt following the exhibition in the Great Hall.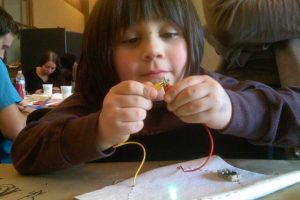 During the interdisciplinary workshop, participants will learn basic principles of electricity, conductivity, and simple circuits, while exploring crafting with textiles and engaging sensations of touch and memory . The workshop crosses boundaries of analog and digital and engages participants to creatively explore across disciplines of low and high tech.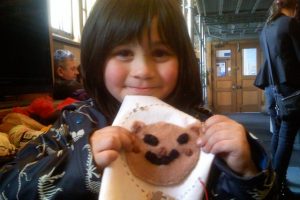 Soft Circuits was created with support from a microgrant from the Frank-Ratchye Fund for Art @ the Frontier (FRFAF) — an endowment founded to encourage the creation of innovative artworks by the faculty, students and staff of Carnegie Mellon University. With this fund, the STUDIO seeks to develop a cache of groundbreaking projects created at CMU — works that can be described as "thinking at the edges" of the intersection of disciplines.
Olivia Robinson is a multimedia fiber artist whose work spans performance, installation, research, and community engagement. Robinson received her BFA from the Maryland Institute College of Art, her MFA in Electronic Art from Rensselaer Polytechnic Institute, and teaches at the Maryland Institute College of Art.