Simona's Search
CMU Drama Students (see full credits below) (2023)
Simona's Search :: FRFF Supported (#2023-041) from STUDIO for Creative Inquiry on Vimeo.
Simona's search is scientific exploration through drama. Simona, our protagonist, uncovers her father's past through her studies and exploration of trauma. The team's (see full credits below) goal is to create theatre spaces for BIPOC students and represent all the dynamic facets of being Latina for an audience. For example, in the show, Simona doesn't speak Spanish, doesn't eat the food of her father's culture, doesn't listen to their music, but she is still considered Latina because of her father. It raises questions such as who gets ownership of their past and what does growing up in the United States as a 1st generation person mean for the relationship between a parent and child?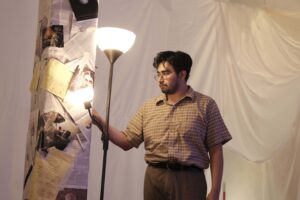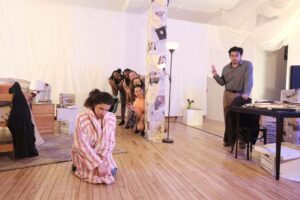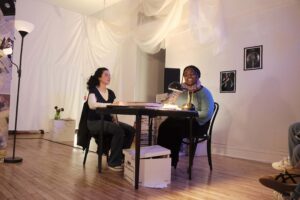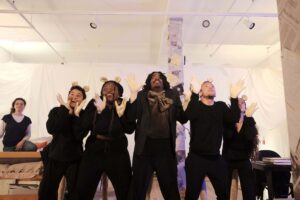 This project was made possible with support from the Frank-Ratchye Further Fund microgrant #2023-041. Additional images can be found here.
Written by Martín Zimmerman
Directed by Isabella Campos @bellaacamposs
Presented at the Frame Gallery @theframegallerycmu
Isabella Campos @bellaacamposs
Gerardo Navarro @gerardojrnavarro
Julio Cesar Guitierrez @juliocheezer
Mathew Diston @matthewhdiston
Reynaldo Quintana
Benji Santiago @bennjisantiago
Danielle Williams @daniellekwilliams_
Ella Noriega @ella.noriega
Scenic Design – Viscaya Wilson @viscaya_wilson
Costume Design – Räyya Gracy @i_.rayya
Lighting Design – Hailey Garza @haileygarzadesign
Sound Design – Iris Chiu @iris.chiu
Media Design – Reiley Torfun @reileynym
Asst. Media Design – Lilian Nara Kim @oh.lily.an
Choreographer – Chloe Kaitlyn Brown @chloekaitlynbrown
Choreographer – Betsy Scott @betsyscott93
Production Stage Manager – Alexander Farrell @ale.farrell
Asst. Stage Manager – Marion Mongello @stuffbymern
Prop Coordinator – Sebastian Zavalza @sebas_zar