Sheboygan Viewfinder
Ginger Brooks Takahashi (2023)
Ginger Brooks Takahashi received a microgrant to fund her research in preparation for an upcoming residency at Kohler Arts/Industry in Sheboygan, Wisconsin in Fall 2023 where she will make an edition of cast iron manhole covers. She visited Sheboygan from March 6-8, 2023 to identify potential stormwater manhole sites for her work. She met with Sheboygan's Director of Public Works, Dave Biebel who after learning about her project, took me her on a tour of the town's storm sewer system.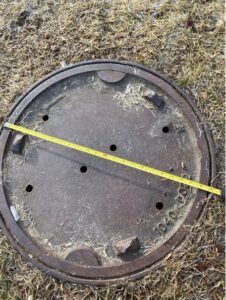 ("1st Creek" which runs along Bluff Ave empties into the park)
Brooks Takahashi also had the opportunity to visit Willow Creek Preserve with Isabel Mueller who manages the preserve in her role with the Glacial Lakes Conservancy. This site visit was formative in understanding where one stormwater system becomes Willow Creek, where salmon spawn and other wildlife proliferate. As a result of these meetings, she was able to identify potential locations for the work. Additionally, she met with the current and former studio technicians to consult on the casting project's feasibility, a new process for Brooks Takahashi.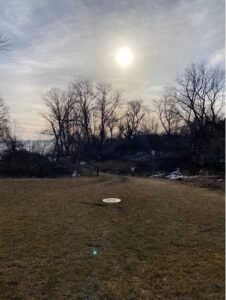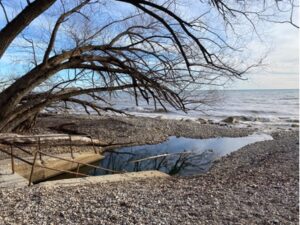 ("2nd Creek" flows into Lake Michigan)
A last facet of her research was learning how to use a CNC router in order to prepare for making patterns for the moldmaking process. She used a portion of her budget to purchase specialized router bits, as well as foamular board for making models. While both the School of Art and dFAB's CNC routers were not operational, Brooks Takahashi joined Protohaven, a community maker space and to learn how to use the CNC router and continue her research.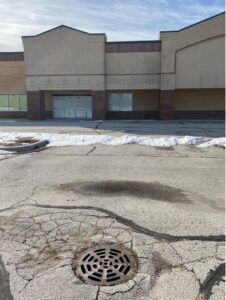 (Source of Willow Creek Outfall)
This research was made possible by Frank-Ratchye Further Fund Microgrant #2023-016. Additional images can be found here.
Read more about her work on earlier iteration of this research, the Nine Mile Run Viewfinder