Proximity by Aysha Zackria :: Supported by FRFF (#2022-048) from STUDIO for Creative Inquiry on Vimeo.
"Proximity" is a 15-minute play focused on Clara Rockmore, who eventually became the first master of the newly invented ether-wave instrument, the theremin. She believed so deeply in the theremin's potential that she invested her career solely in its performance. Both Clara and Leon Theremin, its inventor, were Russian immigrants living in the United States, and this common ground eventually became a source of tragedy. During Stalin's control of the Soviet Union, Leon was abducted by the KGB, and Clara became the primary proponent of the theremin. Amidst her overpowering grief and the abundant doubts of more powerful musicians, Clara continued to perform, making a name for herself and the theremin. "Proximity" is a testament to her resilience in the face of extreme socioeconomic, political, and cultural pressure.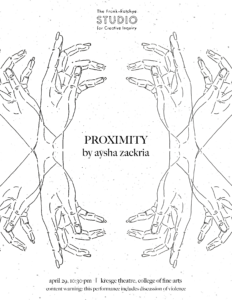 "Proximity" is a celebration of testing boundaries. In the same way that Clara ventured into an unfamiliar musical sphere, this play examines the conventional uses of music in theatre and how they can be altered. It examines how long-standing performance tradition causes creative homogeneity and how we can move past that compulsion. By celebrating Clara Rockmore, we can acknowledge an entire generation of women who paved the way for music technology, making the industry more inclusive than it was before. Above all, Clara Rockmore embodies the innovative, risk-taking, and interdisciplinary spirit of The Frank-Ratchye STUDIO for Creative Inquiry, and she deserves to have her story told.
The play was produced in the Kresge Theatre in collaboration with CMU's School of Music. The script was written by Aysha Zackria in collaboration with dramaturg Anna Toutain. The production was helmed and staged by director Caroline Homes. It also featured costume design by Emma Pollet and Evan Riley, scenic design by Elena Delvecchio, sound design by Emily Brunner, and media design by Jin Oh. The cast consisted of Riley Noland as Clara Rockmore, Andy Lebuhn as Leon Theremin, and Kyra Klonoski as the Announcer.
This project was made possible by FRFF  microgrant #2022-048.