pplkpr
Lauren McCarthy, Kyle McDonald (2014)
pplkpr is an art project created by Lauren McCarthy and Kyle McDonald to explore the implications of quantified living for relationships. Who owns the data created between two people, what if it is captured and used? What if algorithms could understand our relationships and make better interpersonal decisions than we can ourselves?
pplkpr by Lauren McCarthy and Kyle McDonald from STUDIO for Creative Inquiry on Vimeo.
pplkpr is an app that tracks, analyzes, and auto-manages your relationships. Using a smartwatch, pplkpr monitors your physical and emotional response to the people around you, and optimizes your social life accordingly.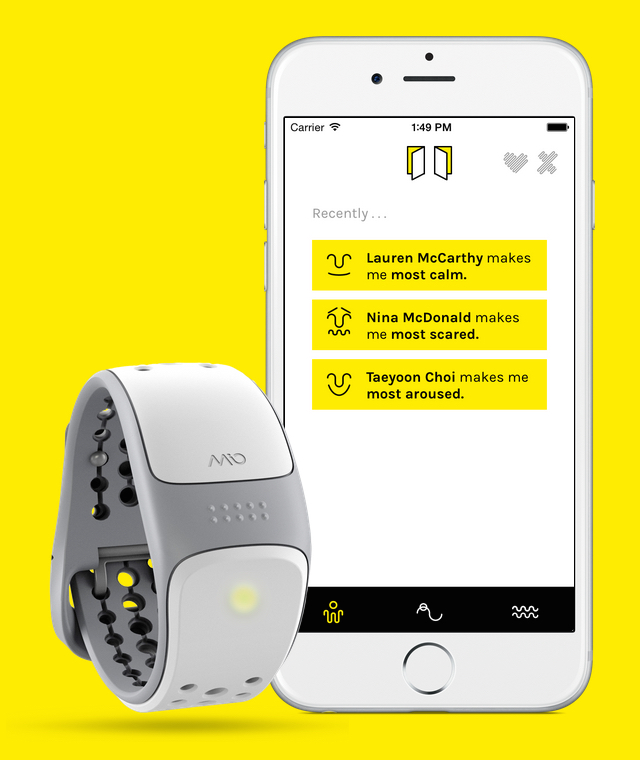 pplkpr uses GPS and a heart rate wristband to keep track of when you're coming and going, and when you're feeling emotional. pplkpr implements a complex metric called "heart rate variability" that uses subtle changes in heart rhythm to determine your emotional state. This data is correlated with the people you interact with to determine who should be auto-scheduled into your life and who should be removed.
pplkpr :: Interviews with Student Test Subjects from STUDIO for Creative Inquiry on Vimeo.
pplkpr started with over a year of research and experimentation, and eventually took the form of an iOS app ready for short term daily-life performances. The first performance of pplkpr was conducted with a group of students at Carnegie Mellon University. For one week, their stress levels were carefully monitored while their social lives were manipulated accordingly. During this performance, the students used a modified version of pplkpr that was able to control their social media.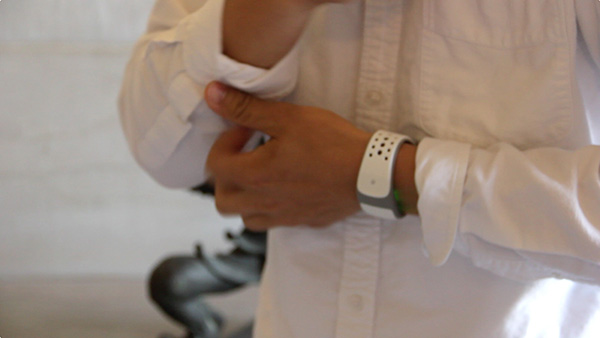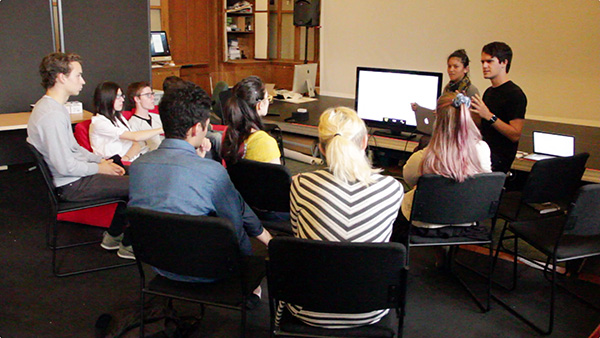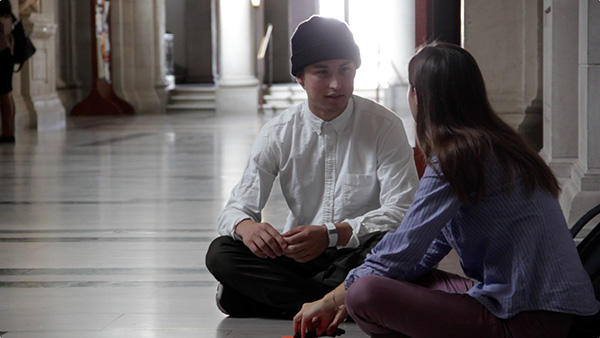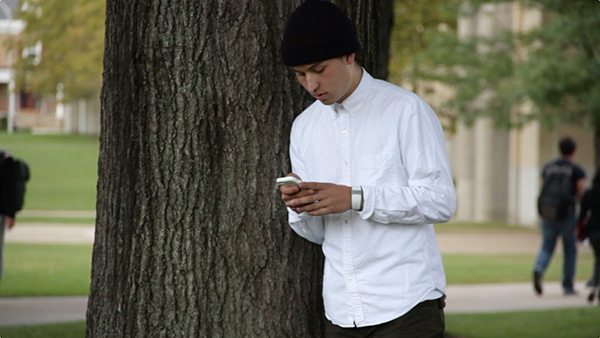 During their time at the STUDIO as Warhol Foundation Artists-in-Residence, McCarthy and McDonald discussed their individual and shared projects that explore new forms of interactivity and identity during this one-hour lecture presentation, co-presented with the Carnegie Mellon University School of Art.
Lauren McCarthy and Kyle McDonald from STUDIO for Creative Inquiry on Vimeo.
This work was developed in part through a residency at the Frank-Ratchye STUDIO for Creative Inquiry, with support from The Andy Warhol Foundation for the Visual Arts, and through a residency at Eyebeam Art + Technology Center.
Lauren McCarthy is an artist and programmer based in Brooklyn, NY. She is adjunct faculty at RISD and NYU ITP, a researcher in residence at ITP, and recently a resident at Eyebeam. Her work explores the structures and systems of social interactions, identity, and self-representation, and the potential for technology to mediate, manipulate, and evolve these interactions. She is fascinated by the slightly uncomfortable moments when patterns are shifted, expectations are broken, and participants become aware of the system. Her artwork has been shown in a variety of contexts, including the Conflux Festival, SIGGRAPH, LACMA, the Japan Media Arts Festival, Share Festival, File Festival, the WIRED Store, and probably to you without you knowing it at some point while interacting with her.
Kyle McDonald works with sounds and codes, exploring translation, contextualization, and similarity. With a background in philosophy and computer science, he strives to integrate intricate processes and structures with accessible, playful realizations that often have a do-it-yourself, open-source aesthetic. He enjoys creatively subverting networked communication and computation, exploring glitch and embedded biases, and extending these concepts to reversal of everything from personal identity to work habits. Kyle is a member of F.A.T. Lab, community manager for openFrameworks, and an adjunct professor at the NYU ITP.
Press about pplkpr:
pplkpr was presented as part of the NODE15 Festival in Frankfurt, Germany.
---
People
Partners and Supporters