Open Door Museum
Joseph Zhang (2022)
Open Door Museum is a modern cabinet of curiosities where everyone can be a curator to define our collective identity. The creator, Joseph Zhang, proposes the 'open door museum' as a technology to gather quality, participatory data for underrepresented cultures for the minority community and bond emotionally scattered neighbors through collaborative storytelling.
Open Door Museum by Joseph Zhang :: Supported by FRFAF (#2022-032) from STUDIO for Creative Inquiry on Vimeo.
This project focuses on the problem of the failure of museum exhibitions to represent the residential community. The team strived to tackle this by building a platform where residents could become curators and present their perspectives to the audience in exhibition settings. Joseph Zhang and the team hoped to amplify the community's voice through exhibitions where community members become curators and share their stories and cherished objects.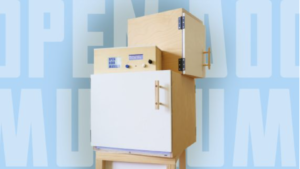 They designed and prototyped a pair of hardware-integrated cabinets: one for scanning in objects and another for displaying that scanned object through holographic projection. 
The team drafted a proposal for democratizing museum curation through a network of community museums from the gathering of suggestions and initial user interviews. After multiple physical forms and technical prototype iterations, the team created the working prototype for the final exhibition. This project has been submitted to the 2022 Interaction Award in Connecting Category and awarded as the Best in the Category (this link has a detailed project description and prototype iteration process). 

This project was made possible by Frank-Ratchye Further Fund Grant #2022-032.