OnlyBans
Lena Chen (2021)
Housed within an immersive cam studio installation, OnlyBans – created by School of Art MFA Candidate Lena Chen – critically examines the policing of marginalized bodies and sexual labor to empathetically teach people about digital surveillance and discrimination faced by sex workers.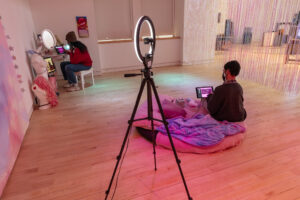 OnlyBans is a research-based digital game that investigates what might happen if sex workers become thought leaders rather than victims of technological innovation. How can sex workers be empowered as data stewards directly involved in developing technologies and policies that impact them? What solutions can be found when sex workers collaborate with other communities harmed by carceral technologies?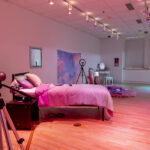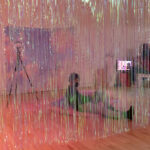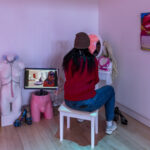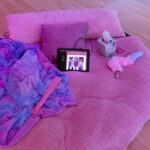 Assuming the role of a sex worker, players in OnlyBans attempt to establish an online fanbase and earn money through posting erotic images. Players encounter content moderation algorithms, shadow-banning, and other threats based on sex workers' actual experiences.As players attempt to evade being censored by social media platforms and flagged by payment processors, they also encounter a supportive sex worker community, meeting peers who offer tips on mitigating platform data extraction and protecting one's identity.
This project was made possible with support of grant#2022-017 from the Frank-Ratchye Fund for Art @ the Frontier. Additional images can be found here.