Morfologia
Tatyana Mustakos (2018)
Morfologia by Tatyana Mustakos :: Supported by FRFAF from STUDIO for Creative Inquiry on Vimeo.
Residing in the space between performative sculpture and eccentric high fashion, Morfologia, by Tatyana Mustakos, is a series of visceral dresses with electromechanical augmentations focussed on our bodies: the way we are taught to view, inhabit, and interact with them. A response to the over-aestheticized representations of normative body forms in the fashion industry, Morfologia is meant to subvert the relationships reinforced between the individual, their body, and society over decades. Ultimately, the line aims to highlight the role of the Body as a liminal space.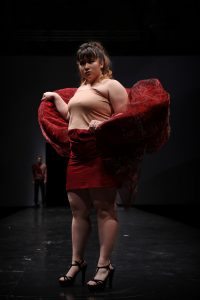 Mustakos, the lead designer of Morfologia, writes:
"Our line is titled Morfologia, the Italian word for morphology, meaning shape or form. The line draws from the forms of the body, both literal and metaphoric, and is particularly focused on the ways we are conditioned to view, inhabit, and interact with our bodies.
​The line consists of nine distinct looks, each with different silhouettes and employing different materials and fabrication techniques. The throughline of the project is the use of organic body motifs, red and nude tones, and contrasting sheer silks and elastic synthetic fibers."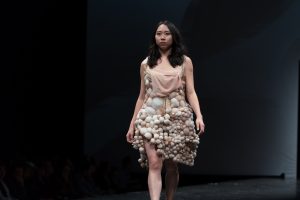 Lead Design by Tatyana Mustakos, Designed and Fabricated with Soojin Sohn, conceptualized with Kabir Mantha. Further assistance provided by Filipe D'oropeza, Varun Gahd, Priscilla Medor, Ulani Qi, and JiEun Sohn.
You can see more at this Flickr album.
Made possible with support from the Frank-Ratchye Fund for Art @ the Frontier.