Kombucha Boom? Sustainable Options for the Costume Industry
Claudia Brownlee (2023)
Claudia Brownlee aims to reframe sustainability in costume design through experiments with alternative fabrication and dye processes. In "Kombucha Boom?" she produced a cochineal dyed SCOBY "leather" and documentation of her findings as part of her MFA Thesis in the Carnegie Mellon University School of Drama.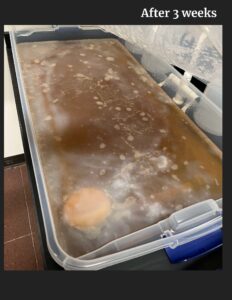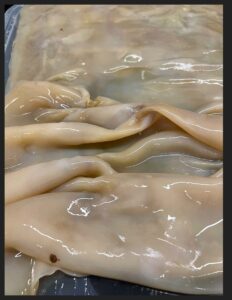 Her research illuminated the possibilities and limitations of bacteria based leather replacements including material strength, flexibility, readiness to take dye, and ease of manipulation for construction into a garment. Brownlee describes her motivation as a necessary shift for the industry at large, with plenty of obstacles along the way.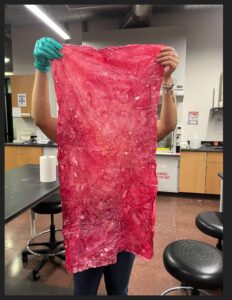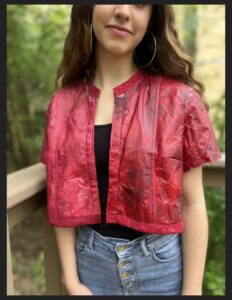 "As a costume designer, I cannot help but think about how behind we are in our efforts to move into a more sustainable process. This is why I decided to focus my thesis on sustainability. As we create new stories, we find ourselves adding to the textile pollution dilemma the world currently facing.
Kombucha leather is a material made from a SCOBY, (a symbiotic culture made up of bacteria and yeast) all over the world people have become interested in its use as a textile alternative to create 100% biodegradable garments. A few like designer Suzanne Lee, has had some success in constructing garments.
My question was how well would a costume made of SCOBY hold up on stange and how feasible would it be to adapt the growing and production of kombucha leather into theatre practices."
The full Kombucha Boom project Look Book can be downloaded here.
This project was made possible in part by the Frank-Ratchye Further Fund Microgrant #2023-023. Find additional images here.