Intergalactic Immigration Office
Zhiwan Cheung, Daniel Pillis, Leah Wulfman, Zachary Rispoli (2014)
Intergalactic Immigration Office, a public performance, was a collaboration between CMU students Zhiwan Cheung, Daniel Pillis, Leah Wulfman and Zachary Rispoli. The event took place on 18 April 2015 at Pittsburgh's Schenley Plaza, as part of the 2015 Open Engagement conference. The artists write: 
The temporary "Intergalactic Immigration Office" is a site-specific social sculpture that dispenses a national identity based in space, not "on" earth. In doing so, we manufacture a situation wihin which everyone becomes a new type of human, a member of the galaxy, from a world without states or countries. Conceptually, the project aims to estrange participants, defamiliarizing the traditional notions of nationality and pointing to the arbitrariness of restrictions on national identity.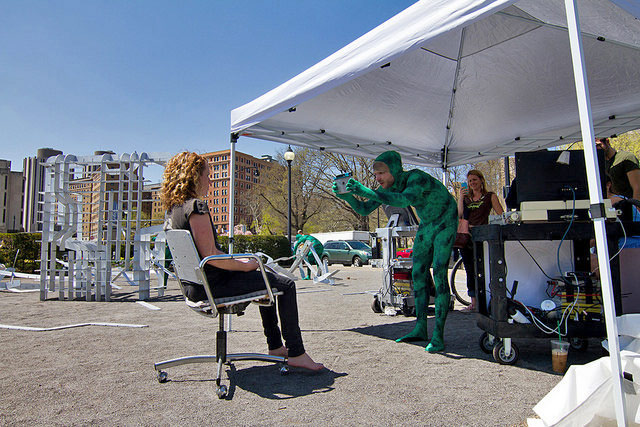 The booth has three primary functions: to manufacture a mock sovereign "state", which dispenses citizenship to participants following a brief questionnaire; to create and log three-dimensional models of each participants' face, which are displayed on the exterior of the booth; and to create an affinity network of individuals and foreigners who have become citizens of our intergalactic culture. Each participant's unique cultural identity becomes reduced (or elevated) to that of an "earthling"; in so doing, they become a foreigner within their otherwise native land.
The project also included the Intergalactic Distorter: special software to enhance people's alien identities.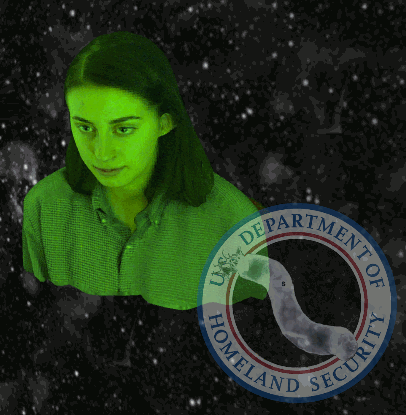 Intergalactic Immigration Office was supported by a microgrant from the Frank-Ratchye Fund for Art @ the Frontier (FRFAF)— an endowment founded to encourage the creation of innovative artworks by the faculty, students and staff of Carnegie Mellon University. With this fund, the STUDIO seeks to develop a cache of groundbreaking projects created at CMU — works that can be described as "thinking at the edges" of the intersection of disciplines.
Zhiwan Cheung and Daniel Pillis are MFA candidates in the CMU School of Art. Leah Wulfman is a 4th-year Architecture undergraduate, and Zachary Rispoli is an Art sophomore.
More information on their project can be found at http://intergalacticimmigrationoffice.tumblr.com.