Immersing in the Sphere World
Sydney Zheng (2018)
"Immersing in the Sphere World" was a research project by Sydney Zheng investigating a relationship between human empathy and physical distance. Taking first that all people connect on the level of having "a body," Zheng used a three-meter diameter sphere capable of holding one individual inside. The person inside strapped down to move in relation to the sphere itself.  Wearing a VR headset, this person sees themselves as part of a virtual environment at the scale of their sphere. Through a system of Unity based code written by Zheng, the person inside the ball is able to communicate the way they wish to move to 1 individual outside the sphere. This research focuses on the expression and interpretation of the wish to move and be moved by sending controller based commands to an iPhone app, which is interpreted by one individual to a group of  "pushers." This VR Research Experience allowed Zheng to investigate the will to move and the coordination that movement as part of an abstracted social body.
Immersing In The Sphere World by Sydney Zheng :: Supported by FRFAF (#2018-12) from STUDIO for Creative Inquiry on Vimeo.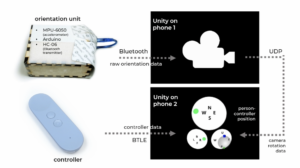 This project was supported by Microgrant #2018-012 from the Frank-Ratchye Fund for Art @ the Frontier.