If and When You Find Me
Ester Petukhova (2023)
Curated by Sean Beauford, Ester Petukhova's BFA 23 solo exhibition "If and When You Find Me" took place at Here Gallery in Pittsburgh, July 7 – August 12. The exhibition attempts to organize a fractured and unreliable timeline of a "post-Soviet" nationhood. From maps and registration devices— to images clouded by the collapse of the USSR: the series of paintings search for the post-Soviet body through an asynchronous history.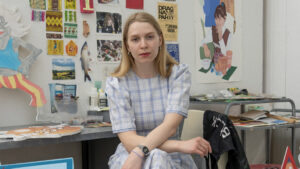 With support from the Frank-Ratchye STUDIO for Creative Inquiry microgrant# 2023-0238, the exhibition featured the release of a pocket-sized book. The book serves as a visual and autobiographical index, organizing a range of materials, images, and films collected over the course of the last year in relation to the works. The index also includes a selection of essays from post-Soviet Scholars and artist friends.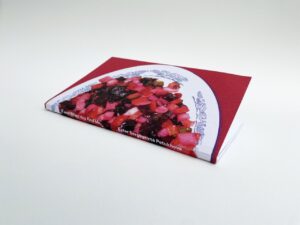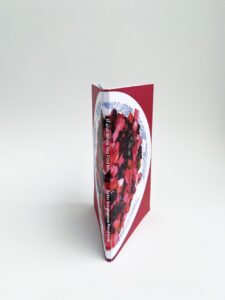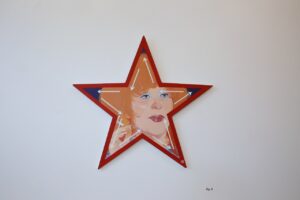 Alla Alignment, (2022)Acrylic on shaped panel, 25 1/2 x 25 1/2 x 1/2 in. (64.8 x 64.8 x 1.3 cm.)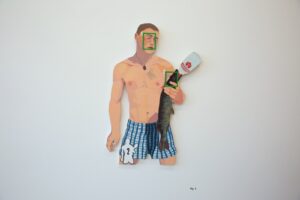 Indexed Landmarks 1 & 2, (2022)Acrylic on shaped panel, 25 x 15 3/4 x 1/2 in. (63.5 x 40 x 1.3 cm.)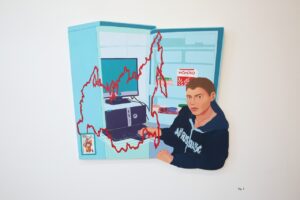 Burgeoning Blue Screen, (2022)Acrylic on shaped panel, 28 x 29 x 1/2 in. (71.1 x 73.7 x 1.3 cm.)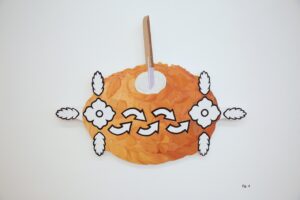 Bread with Salt in the Wound, (2023)Acrylic and glass beads on shaped panel, 26 x 20 in. (66 x 50.8 cm.)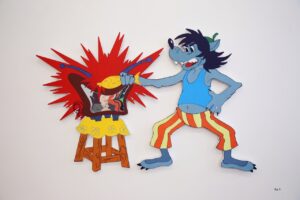 Pizza Power Play (1998), (2023)Acrylic on shaped panel, 38 3/4 x 26 1/4 in. (98.4 x 66.7 cm.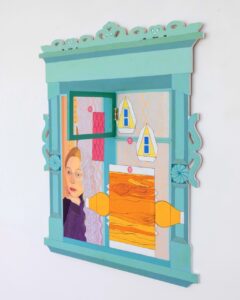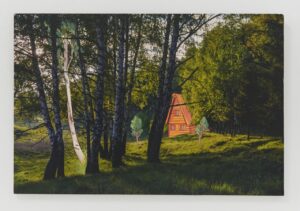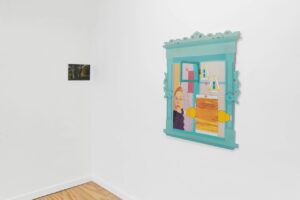 Through the Fortochka: An Exit West, (2023)acrylic on shaped panel and acrylic on inkjet print mounted on panel, in two partswindow (open): 40 1/2 x 32 1/2 x 11 in. (102.9 x 82.5 x 27.9 cm.)landscape: 9 x 13 3/8 in. (22.9 x 34 cm.)