How to Critique Towards Love
Max Spitzer (2019)
With support from the Frank-Ratchye Fund for Art @ the Frontier, CFA graduate student Max Spitzer transformed a group critique in the School of Art's MFA program with the addition of an upright bass player and a courtroom stenographer. Spitzer aimed to 'shake up' the group's typical patterns of interaction while simultaneously reimagining the format and conventions of an art school critique. In Spitzer's playful intervention, the bass player provided improvised accompaniment for the duration of the conversation while the stenographer produced a live verbatim transcript.
The hour long performance-conversation touched on much more than the qualities of the specific artworks under discussion. Instead, the group's conversation addressed the performance of power in academic spaces; made new contexts for critical responses and humor; and prompted reflection on the methods by which meaning is collectively produced within higher arts education.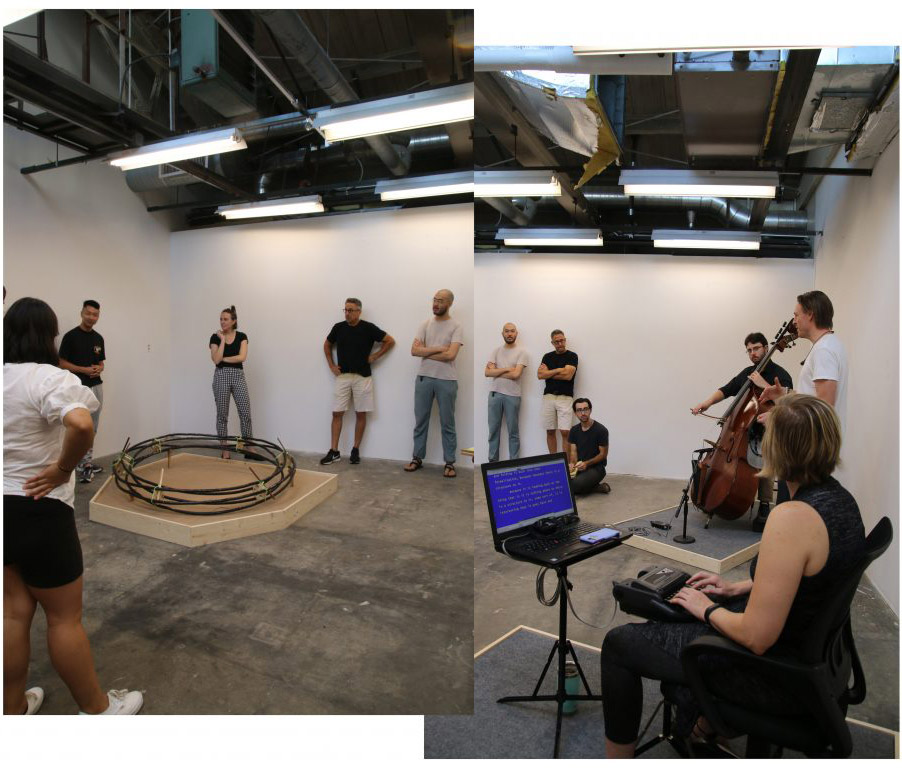 Subsequently, Spitzer developed this performance concept into a new form of participatory educational programming, with a special focus on facilitating constructive, accessible, and compassionate group critiques. The resulting series of touring workshops, entitled How to Critique Towards Love, held its first session outside CMU in May 2019 on the original campus of Black Mountain College. Spitzer continues to seek more spaces in which to iterate the project and  lead critiques with greater empathy and efficacy.