Grandma's House
Matthew McGaughey (2021–Present)
"Grandma's House" is an on-going interdisciplinary exploration of the relationship between a grandmother and adult grandson created by School of Art MFA Candidate, Matthew McGaughey. The piece examines the complexity of their connection through a series of recorded performances, objects, sounds, and scents.
Like much of Matthew McGaughey's practice, the work emerges from reductive, two-dimensional characters. The grandma is everyone's grandma at first an object, a mannequin, a doll. McGaughey writes,
"First, I relinquish my physical self, allowing her to possess me. I go slack, and she takes over. It's a haunting. I operate solely under her control. Further, and to open the possibility of engaging each other relationally, I employ a dummy of myself which I take turns with my grandmother's specter to animate and incorporate. The physical body and the stand-in operate together to reenact abstracted moments from my personal history with my grandmother.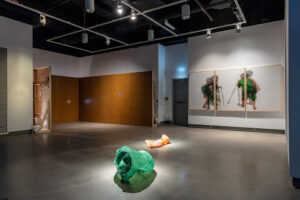 McGaughey attempts various production and editing tricks to create a smooth transition between object grandma and embodied grandma, object Matthew and embodied Matthew. The characters are confined within the flatness, blankly enacting their roles. Grandma's house is a trap. They get stuck and begin to fracture. The experience of "Grandma's House" focuses on what emerges at this fracture, perhaps a new tenderness, maybe a legitimate relation of care.
It begs the questions, "How can the characters escape the space they find themselves in?" "How can they break free from their interactive loops and scripts?" "How can genuine liveness emerge as their prescriptive representations fail?" Ultimately the characterizations of "sickly sweet" grandma and the endlessly devoted grandson fall apart. Through this complicated process of "becoming grandma," the work re-territorializes the past as a way to free both of agents of its socially prescriptive confinement. McGaughey argues, the work is an endeavor to find a way out of the trap of memory, an attempt to create more robust agency for us both.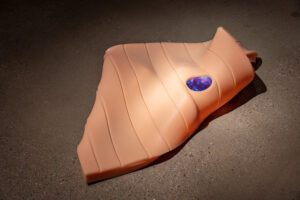 This project was made possible with support of grant#2021-056 from the Frank-Ratchye Fund for Art @ the Frontier. Additional images can be found here.