Glass Pixels: An Ambient Data Display
Jakob Marsico (2015)
Jakob Marsico's prototype demonstrates the possibility of using switchable "smart glass" to create a low resolution, ambient display. This matrix of six panes of switchable glass was designed to display simple, one-dimensional data in a user's periphery. In this iteration, users can control the content of the display by tweeting a keyword to @news_glass. The display then uses realtime twitter activity based on that word to generate motion patterns.
Unlike previous low resolution displays that create light, Glass Pixels only modifies, or filters, existing light. The result is a display that exists deeper in a user's periphery.
The final iteration will installed at the Butler Institute of American Art, in Youngstown, OH. That version will use processed video to generate patterns reminiscent of shadows caused by people passing a window.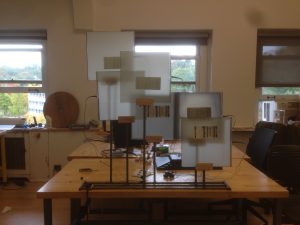 Glass Pixels displays simple, one dimensional data in a user's peripheral vision; extending the idea that technology can communicate with us without requiring our attention.
A goal of the Glass Pixels prototype was to work with light without creating light. Panes of switchable glass filter light to create informative patterns of light and shadow that blend into the background. When arranged in a cluster or matrix, the panels act as "pixels" in a low resolution display. Software developed for the project controls the cluster to create quiet, communicative patterns.
Made possible with support from the Frank-Ratchye Fund for Art @ the Frontier