Force Haptic Interaction for Room-Scale 3D Painting
Daiki Itoh (2018)
Artistic painting involves mastery of haptic interaction with tools. Each tool brings unique physical affordances which determines an aesthetic expression of the finished work. For instance, a pen offers an ability to make a precise stroke in a realism painting, whereas a thick brush or a sponge works perfectly with dynamic arm movement in the abstract art such as action painting. Yet the selection of a tool is just a beginning. It requires repetitive training to understand the full capability of the tool affordance and to master the painting of preferred aesthetic strokes. Such physical act of an artistic expression cannot be captured by the computational tools today. Due to the increasing market adoption of augmented reality and virtual reality, and the decades of studies in haptics, we see an opportunity for advancing 3D painting experiences in non-conventional approach.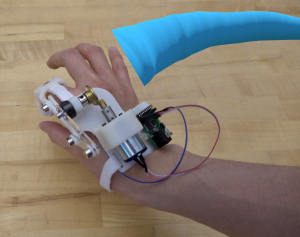 In this research, Daiki Itoh focuses on force haptic interaction for 3D painting art in a room-scale virtual reality. Itoh explores virtual tangibility and tool affordance of its own medium. In addition to investigating the fidelity of a physical interactivity, Itoh seeks ways to extend the painting capabilities by computationally customized force feedback and metaphor design. This system consists of a wearable force feedback device that sits on user's hand, a software for motor control and real-time 3D stroke generation, and their integration to VR platform. Itoh works closely with an artist to refine the 3D painting application and to evaluate the system's usability.
This project was made possible with support from the Frank-Ratchye Fund for Art @ the Frontier.