Follower Robot
Hizal Celik (2014)
Follower Robot by Hizal Celik :: Supported by FRFAF from STUDIO for Creative Inquiry on Vimeo.
Follower Robot is a robotic 1/10th scale car that follows specific colors and items. For this project, Hizal Celik purchased a superman cape with hopes of making this into a cool interactive project that can be put out in a public space and people can try running away from the robot.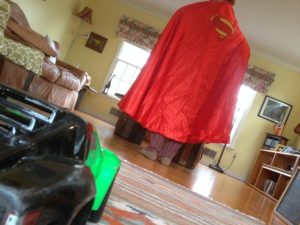 The project consists of three main parts- an Arduino to control everything, an RC car base and electronics (motor, servo, etc) and a Pixy camera (specialized camera developed by CMULabs and built for Arduino, available at ). The pixy cam follows the red cape, and the Arduino measures the distance based on the size of the cape.
Made possible with support from the Frank-Ratchye Fund for Art @ the Frontier.