Existence is nothing but a ripple through time
Karina Shethia (2022)
Existence is nothing but a ripple through time by Karina Shethia :: Supported by FRFF (#2022-029) from STUDIO for Creative Inquiry on Vimeo.
"Existence is nothing but a ripple through time" is a work-in-progress exhibition featuring five installations. Currently two pieces out of the five have been produced. The exhibition uses the lens of lived experience to explore traditions of care and the pressures to create something of lasting impact.
The first piece, "Temporal Translucency", is an interactive light and sound sculptural installation that takes the form of three sound waves physicalized as nested, concentric, patterned rings made from 3D-printed translucent PETG. Audio accompanying the physical piece echoes the original sound recordings that each sculpture wave is based on; a sonification of love passed from generation to generation, from wave to wave.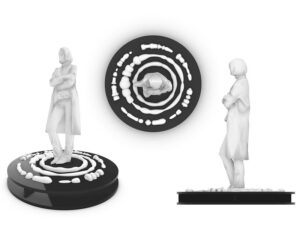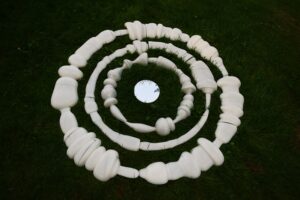 By stepping into the center of the installation, participants illuminate the sculpture, bringing the ripples to life as if stomping in water. The light won't last forever: it is activated by bodies in the present and charged by the pressure to create something that lasts in a temporal world. The subjectivity built into the concentric ripples questions what can be gained from letting the past occupy space in the present and future. How can our emotional phenomena and traditions of care transcend time? Should immortality and immateriality be something that we strive for?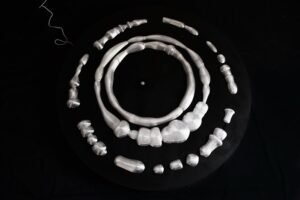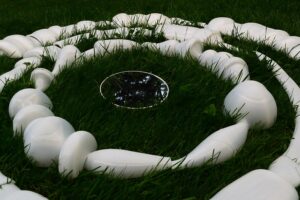 The second piece, "Read my Reflection", is slightly larger in scale and features similar sculptural ripples made of 3D-printed translucent PLA. The installation examines the relationship we have with ourselves, and what it means to be our own advocate. In the center of the installation is a mirror reflecting the words written on a wooden stand above: 'I will not stand in my way anymore'. In pursuit of viewing these words of affirmation in the mirror participants are forced to confront their present self. The presence of the mirror surrounded by the sculptures questions how we can begin to overcome the constraints of our past to move towards a more hopeful future.
This project was supported made possible by the Frank-Ratchye Fund for Art @ the Frontier Microgrant #2022-029.