Ditherer
Gary Tyler, Ballroom Marfa, Laura Copelin (2017)
Ditherer – walk through video from Institute for New Feeling on Vimeo.
The Institute for New Feeling is using the new HTC Vive Virtual Reality system to imagine a very near future of online shopping. As participants wander through an infinite wholesale warehouse, they encounter real products that can be purchased through the interface using an e-store "add to cart" function. When they pick up a product with their hands, the shelving and aisles around them are suddenly transformed into a collage of elements from the product's history (details like: animal/plant ingredients in the product, its manufacturing or labor history, celebrity endorsements, strange trivia, controversy, etc.) This style of teleportation plays on the concept–common to shampoo or perfume advertising–in which purchasing a product immediately "transports" the consumer to its place of origin. But here, the origin myth of Herbal Essences, for example, would reflect not only the pristine rainforest, but also perhaps the realities of plastics manufacturing, the aesthetics of industrial bottling, or an anecdote about this shampoo's most obscure ingredient… Our intention here is not to stitch a comprehensive history for each product, but instead to replicate the web of associations that emerges when researching a product online. Following an intuitive, undisciplined logic, these narratives are allowed to spin out of control, leading the consumer as far from the original product as possible–similar to the familiar experience of falling down a Wikipedia "rabbit hole."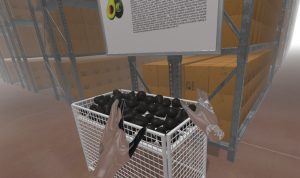 Ditherer is a collaboration with 3D artist Gary Tyler, commissioned by Ballroom Marfa, curated by Laura Copelin.
Ditherer premiered as part of IfNf's 2016 show at Ballroom Marfa, with additional exhibitions at Art&&Code presented by the Carnegie Mellon University Frank Ratchye Studio for Creative Inquiry, and M WOODS, Beijing.
Made possible with support from the Frank-Ratchye Fund for Art @ the Frontier.