Charpai
Sobia Ahmad (2022)
Charpai is a participatory artwork that opens up spaces of gathering, reflection, and storytelling through collective weaving. The project is centered around a wooden structure on four legs with a woven webbing that bears resemblance to a cot, a loom, and a hammock. Weaving the webbing is a collective effort, requiring at least two people to create the intricate pattern and pull the rope. Participants contribute to the weaving, share food and tea, and are invited to reflect on tactility and slowness as an ethos for engaging with our inner lives, and for experiencing various spiritual dimensions of social engagement.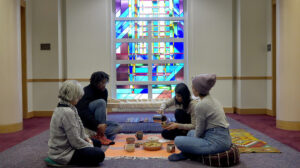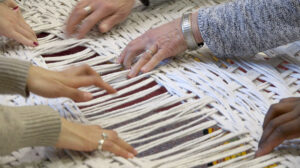 MFA Student Sobia Ahmad drew inspiration from a similar piece of furniture called 'Charpai' that was the center of life in the courtyard of her childhood home in Pakistan, where it performed multiple functions as a daybed, a gathering site, a surface to dry chilies on, just to name a few. Through public engagement, Ahmad extends the function of the Charpai beyond a culturally specific and domestically localized object to an itinerant one. In doing so, she facilitates conversations around issues such as the politics of rest and labor, global feminist histories of craft, and the need for slowness and contemplative spaces amid obsessive productivity culture.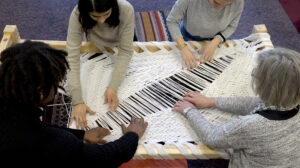 Over a year, from February 2022 to February 2023, Ahmad hosted five weaving circles and multiple one-on-one sessions at different locations including at a chapel on the Carnegie Mellon University campus and in her studio, with participants from Pittsburgh and beyond to complete the first iteration of Charpai. This project was supported in part by grant #2022-045 from the Frank-Ratchye Further Fund. More images can be found here.